JPMorgan's Dimon Is Staying in Power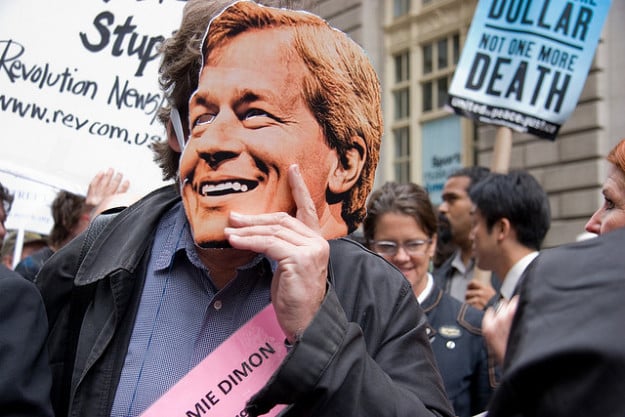 Despite the lack of oversight that contributed to JPMorgan Chase's (NYSE:JPM) $6.2-billion loss from failed derivative trades last year, shareholders do not want Chief Executive Officer and Chairman Jamie Dimon to quit — which is what many worried he would do if stripped of the title of chairman. But those concerned shareholders can shelve their fears, at least for the time being; the vote that sought to separate the two powerful positions failed.
JPMorgan's annual meeting brought months of bitter shareholder campaigning to a head on Tuesday. Investors have argued for months that Dimon has made too many mistakes during his tenure to hold both positions. Stripping him of the chairman title and giving it to another director, would have ensured that Dimon's actions as chief executive would be under increased oversight. The trading loss and a series of confrontations with regulators fueled the campaign to institute an independent chairman, a move that would strengthen oversight of the bank's risk controls.
Yet, Dimon had suggested that he would leave the bank, and that move would have unsettled investors who still believe his leadership can bring big returns. Among the CEOs of the United States' largest banks, he ranks first for stock returns. Even more impressive, during his tenure, he lead the bank through the financial crisis with no quarterly losses and a strong balance sheet. If Dimon resigned, CLSA bank analyst Mike Mayo estimated that JPMorgan's shares would have dropped as much as 10 percent and erased about $20 billion of market value, according to Reuters. Another concern for shareholders was that many of Dimon's advisers, who helped navigate the financial crisis, have left the bank, leaving a team of younger executives that do not have the necessary clout to reign in Dimon.
After a tally of Tuesday's, a source told The Wall Street Journal that Dimon — the nation's most power banker — kept his title of chairman, with 40 percent of shares voting down the proposal, despite the turbulent year that saw JPMorgan and its top executives faced with the damage brought by the London Whale losses. Last year, a similar proposal to separate the chairman and chief executive positions won about 40 percent of votes.
All three members of JPMorgan board's risk committee also received backing from shareholders even though shareholder advisory firm, Institutional Shareholder Services, criticized all three for their lack of experience in risk management, financial regulation, and other relevant areas.
Some industry experts expected shareholders to vote down the resolution; in fact, they said that Dimon's continued leadership was assured by his proven track record of generating strong profits, and the results showed that the sentiment was still alive and well.
The board of directors led a proactive campaign to avert the split. JPMorgan's efforts were spearheaded by the board's decision to slash Dimon's pay by more than 50 percent in January. In March, directors urged shareholders to vote against the proposal, noting in a proxy filing that the "board has determined that the most effective leadership model for the firm currently is that Mr. Dimon serves as both."
Follow Meghan on Twitter @MFoley_WSCS
Don't Miss: Bernie Madoff's Life in Prison.