JPMorgan's Dog Days Prompt Analysts to Think About a Breakup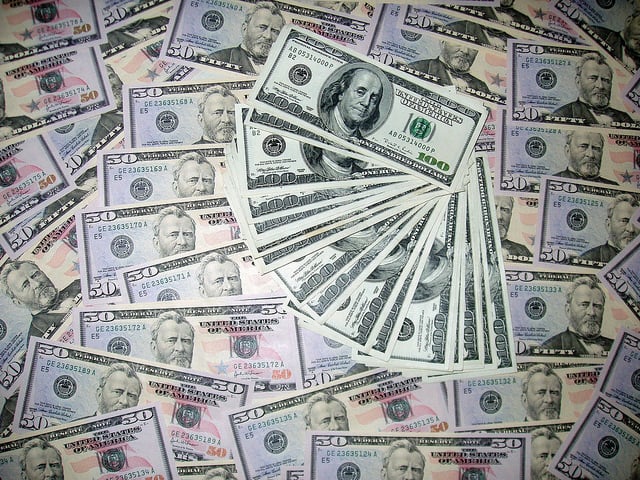 The question of how big is too big when it comes to large financial institutions is nothing new. It has pervaded the thinking of banking analysts and top government officials since the financial crisis exposed the weaknesses hidden in global banks like Bank of America (NYSE:BAC), Citigroup (NYSE:C), and JPMorgan Chase (NYSE:JPM).
Thanks to the lingering fallout from the financial crisis — civil and criminal lawsuits, the tough economic climate, and the increasing regulations and higher capital requirements imposed on banks by the Federal Reserve and other government agencies — many analysts are considering what the financial sector would look like if these mammoth banks were broken into pieces.
Analysts at Wells Fargo postulated in April that shareholders of these institutions may even demand breakups if valuations remain depressed. "Given the challenges posed by increasing regulation, higher capital requirements, and well-publicized trading/market challenges, it's not surprising that investors remain reluctant to assign a 'full' valuation to the universal banks," stated the analysts. "If regulators and/or legislators don't demand it, shareholders could also intensify demands to 'break up the banks'."
That line of thinking has not disappeared. In fact, for JPMorgan Chase, its valuation has garnered even more attention in the month of August as new regulations and potential litigation weigh down the bank's stock price. This is not to say that Citigroup and Bank of America have not also been affected by new rounds of Department of Justice lawsuits. Or, that their shareholders are not concerned about the new rules the White House is urging regulators to implement.
It is just that JPMorgan is currently in a slightly worse position. Over the past month, shares of JPMorgan have declined more than 8 percent, which compares to a 5.62 percent fall for Citigroup — a 2.62 percent drop for Bank of America and a 2.95 percent decrease for the KBW Bank Index (INDEXDJX:BKX).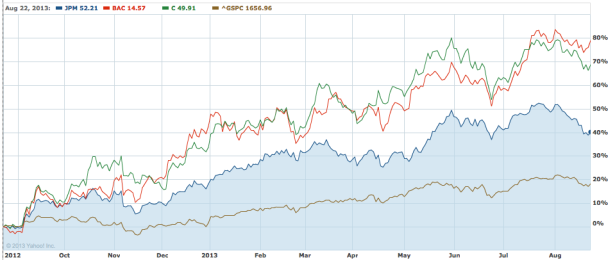 Earlier in August, the Justice Department announced a civil lawsuit accusing Bank of America of defrauding buyers of its mortgage-backed securities by lying about the quality of the home loans included. Already, the institution has been forced to pay billions of dollars in legal costs related to the financial crisis, which have left black mark after black market on its earnings.
Yet, while Bank of America's docket is not fully cleared yet as Chief Executive Officer Brian Moynihan had hoped, JPMorgan is facing much weightier litigation. Not only is the bank dealing with the legal repercussions of 2012's $6 billion London Whale trading loss, it is involved more than a handful of separate DOJ investigations that are looking into various aspects of JPMorgan's past operations.
It includes the mortgage-backed securities it sold during the housing bubble and the bank's alleged manipulation of energy markets in California and the midwest. The legal problems and the resulting  pressure on JPMorgan's stock is unusual for the bank, which up until the London Whale fiasco was often held up as an example a well-run financial institution. It even emerged from the financial crisis stronger than most of its peers.
But now, JPMorgan has calculated that its losses from lawsuits and federal investigations could exceed its legal reserves by as much as $6.8 billion, according to a filing made August 7 with the Securities and Exchange Commission.
For this reason, an analyst at Stifel Financial determined how much JPMorgan would be valued if the biggest U.S. bank by assets was broken into four business segments. While such a break up is highly unlikely, he found that the company's pieces would be worth 30 percent more than the bank's current valuation as a single institution.
Separately, its businesses — traditional banking, investment banking, asset management, and private equity — are worth $255.7 billion, Stifel's Christopher Mutascio wrote Friday in a research note seen by Bloomberg. In comparison, JPMorgan had a market capitalization of $197 billion as of Thursday's close. While the possibility of breaking up JPMorgan is "quite low," it "could potentially result in substantial upside for current shareholders if the segments were valued like similar companies," Mutascio noted.
Current share prices of large banks indicate that net interest margins will expand when short-term rates rise, he added, meaning that investors can buy JPMorgan's stock now at a discount to its peers and wait for litigation to be resolved and shares to rebound. "We believe the resulting discounted valuation represents an attractive valuation alternative to other banks that are poised to disappoint investors when their net interest margins do not expand" immediately, he said.
Follow Meghan on Twitter @MFoley_WSCS
Don't Miss: Nasdaq Breakdown: What Happened and What It Means.