JPMorgan's Giant Settlement, Qualcomm's New Chips, and 3 More Hot Stocks
JPMorgan Chase & Co. (NYSE:JPM): JPMorgan has reached a $13 billion agreement with the U.S. Department of Justice to settle numerous legal fires that the bank is battling all over the place. Announced on Tuesday evening, the settlement "covers a very significant portion of legacy mortgage-backed securities-related issues for JPMorgan, as well as Bear Stearns and Washington Mutual," said CEO Jamie Dimon. Under the terms, the bank will have settled its civil charges with the DoJ; the state attorneys general from New York, California, Illinois, Massachusetts, and Delaware; the Federal Housing Finance Agency; the Federal Deposit Insurance Corporation; and the National Credit Union Administration.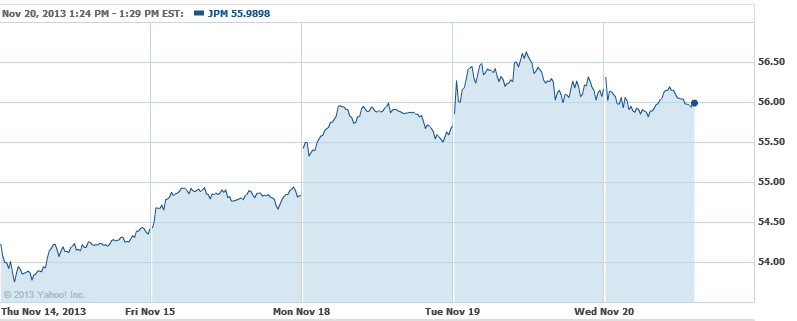 Qualcomm Inc. (NASDAQ:QCOM): During its analyst day, Qualcomm revealed a slate of new chips, including the Snapdragon 805, the new mobile flagship baseband and app processor that features four cores running at speeds up to 2.5GHz (the 800 runs at 2.3GHz). A new GPU was also introduced, which is said to offer a 40 percent performance gain over its predecessor. The Snapdragon should find its way into commercial devices by the first half of next year.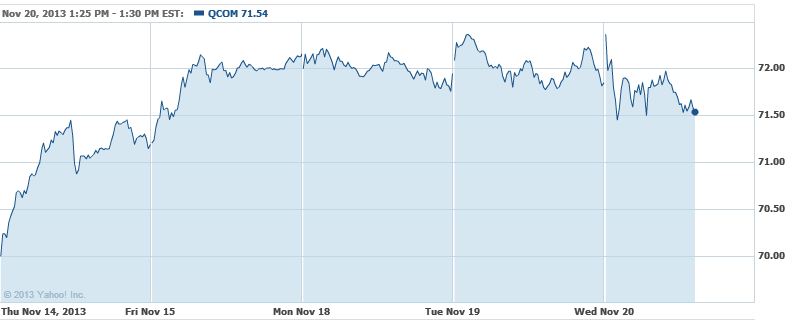 T-Mobile US (NYSE:TMUS): Shortly after news broke that T-Mobile may go after a block of Verizon Communications's (NYSE:VZ)  spectrum, Verizon CFO Fran Shammo confirmed that the Big Red is willing to sell its unused A Block spectrum assets. However, Shammo warns — perhaps as a negotiating tactic, Seeking Alpha notes — that the company is willing to deploy the spectrum itself if it doesn't receive a fair offer. The spectrum in question sits on the 700MHz band, which is well-suited for low-density areas where range is more important than bandwidth, Seeking Alpha points out.

ConocoPhillips (NYSE:COP): ConocoPhillips announced that it has initiated gas production from the Jasmine field in the U.K. North Sea, the largest discovery to come onstream in the region since the giant Buzzard field started production in 2007. The site has a gross capacity to produce 140,000 barrels per day in 2014, while ConocoPhillips expects net production of about 40,000 barrels per day.

Comcast Corp. (NASDAQ:CMCSA): Comcast has starting selling movies via TV and the Web less than a week after reports surfaced that the cable giant was contemplating the introduction of such a market. Recent and older titles for TV shows and movies are available, and in some cases, Comcast is making movies available ahead of their DVD debuts.
Don't Miss: Can Bank of America Ink This $8.5 Billion Settlement?