JPMorgan's London Whale Settlement Reaches $920 Million and 2 Other Dow Movers to Watch
JPMorgan Chase & Co.  (NYSE: JPM): Current price $52.75
Is this the end of the London Whale saga? JPMorgan released a statement saying the big bank hopes so, observing that its $920 million resolution with financial regulators over the so-called London Whale trades marks "a major step in the firm's ongoing efforts to put these issues behind it." The company reached settlements with the U.K. Financial Conduct Authority and the U.S. Securities and Exchange Commission, the Federal Reserve Board, and the Office of the Comptroller of the Currency in a case linked to trades that led to more than $6 billion in losses. On Thursday, JPMorgan said it "cooperated extensively" with regulators and "continues to cooperate with ongoing inquiries, including the prosecutions of the two former CIO employees."

Boeing Co. (NYSE:BA): Current price $119.16
In bonanzas for Boeing and its rival, Airbus, German Lufthansa announced that it is ordering 34 new jets from Boeing and 25 from Airbus as it updates its long-haul fleet to make it more fuel-efficient and also to reduce costs. Lufthansa said the orders are worth $19 billion based on list prices. Delivery of the 777-9X jets from Boeing and the Airbus A350-900 models will start in 2016. They will supplant older aircraft like the Boeing 747-400s and Airbus A340-300s. Boeing says the 777-9X family is set to debut later in 2013 and enter service around the end of the decade.

E.I. DuPont de Nemours & Co. (NYSE:DD): Current price $60.39
Speaking at the Credit Suisse Chemical & Agriculture Science Conference, DuPont Chair and CEO Ellen Kullman reviewed her firm's progress following its strategy to build a higher growth and higher value company. Kullman reported: "Our strategy is clear and is working.  We have created and are strengthening world leading positions in three attractive spaces — agriculture and nutrition, bio-based industrials and advanced materials. We have made good progress and remain focused on continuing to execute successfully against our strategy."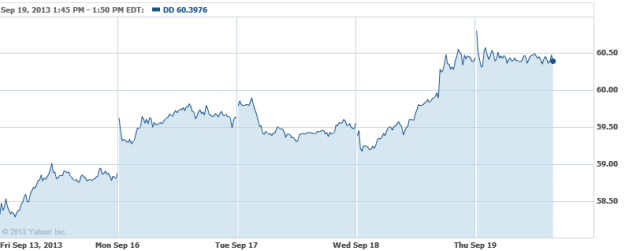 Don't Miss: What Is Preventing Americans From Saving for Retirement?