JPMorgan's New CEOs for Asia and 3 Dow Movers for Thursday
The Boeing Company (NYSE:BA): Current price $85.86
Boeing has expanded its alliance with Bharat Electronics, according to The Wall Street Journal. Through the new agreement, the Indian company is contracted to manufacture more components for the F/A-18 Super Hornet fighter jet, and will provide sub-assemblies such as power and cockpit console panels.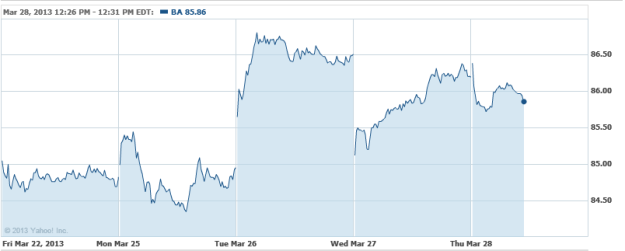 Chevron Corporation (NYSE:CVX): Current price $120.11
Chevron, along with its co-venturers BP (NYSE:BP) and its Royal Dutch Shell (NYSE:RDSA), and ConocoPhillips (NYSE:COP) will go forward with a two-year appraisal program to examine the possibility of developing a third phase of the giant Clair field, located west of the Shetland Islands. The initial commitment involves a two-year program to drill five appraisal wells, but that could increase to between eight and twelve wells, depending on results from the first bores, which has begun recently. The initial investment in the appraisal program will exceed $500 million gross.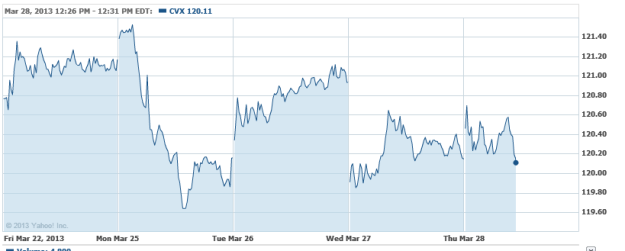 International Business Machines Corporation (NYSE:IBM): Current price $212.34
Worldwide information tech spending is projected at a total of $3.8 trillion in 2013, marking a 4.1 percent increase from 2012 spending of $3.6 trillion, says the most recent forecast by Gartner. Global devices spending should reach $718 billion in 2013, up 7.9 percent from 2012. In the face of flat spending on PCs and a modest drop in spending on printers, a short-term boost to expenditures on premium mobile phones has prompted an upward revision in the devices' sector growth for the current year from Gartner's prior forecast of 6.3 percent. The outlook for 2013 for data center systems spending is projected to grow by 3.7 percent in 2013, which is down 0.7 percent from Gartner's previous forecast.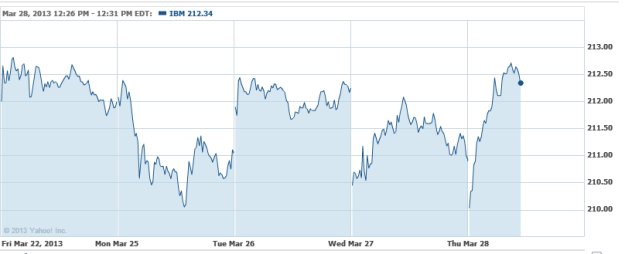 JPMorgan Chase & Co. (NYSE:JPM): Current price $47.37
The Wall Street bank has appointed Greg Guyett as chief executive for the Greater China region and Rob Priestley as the same position at ASEAN, which represents two newly-created roles, says The Wall Street Journal.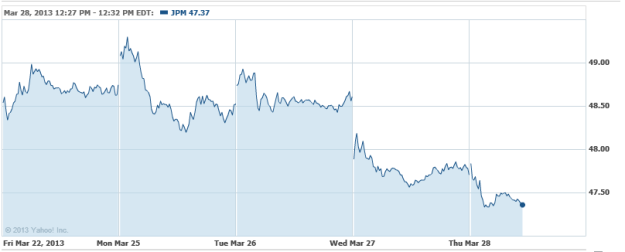 Don't Miss: The S&P 500 Says Hello to A New Record.