JPMorgan's Tentative Settlement, BHP Pulls Back from India, and 3 More Hot Stocks
JPMorgan Chase & Co. (NYSE:JPM): Over the weekend, JPMorgan reportedly reached a tentative $13 billion settlement with the Department of Justice to hep lay to rest the staggering array of legal harpoons aimed at the bank. Though the final terms are still being worked out, the general terms have been signed off on by Attorney General Eric Holder and JPMorgan CEO Jamie Dimon; the settlement would end a plethora of federal probes as well as a lawsuit brought on by New York's Attorney General.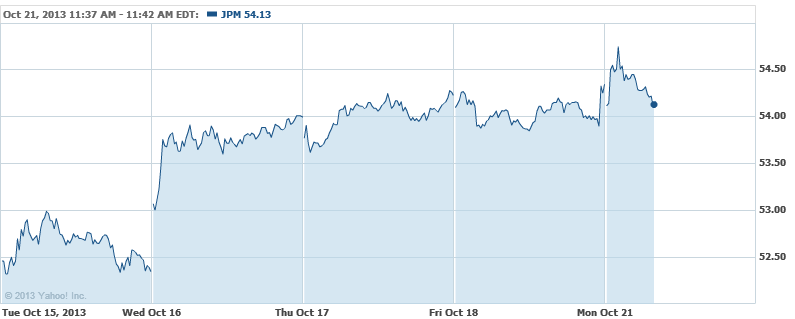 BHP Billiton (NYSE:BHP): BHP Billiton is pulling back from its Indian gas and oil exploration projects after regulatory delays put a dent in the company's plans for the country. The decision will leave BHP Billiton with one Indian exploration block, which it will continue to develop, and makes BHP the latest of many multinationals scaling back their plans in India due to bureaucratic delays or disagreements.

Ultra Petroleum Corp. (NYSE:UPL): Shares are up as Ultra Petroleum agreed to buy up some oil-producing properties in the Uinta Basin in Utah for $650 million, noting that the asset is cash flow positive starting in year one, and completely pays for itself in five years followed by decades of free cash flow.
Goldman Sachs (NYSE:GS): In efforts to increase its fixed-income and liquidity management assets in Europe, Goldman Sachs will be buying up a number of money market funds currently managed by RBS Asset Management; financial details were not disclosed. Goldman Sachs Asset Management leads the liquidity management industry with $195 billion in money market fund assets under management, 33 percent of which is in Europe, the release says.
Chipotle Mexican Grill (NYSE:CMG): After a post-results stock surge last week, firms Miller Tabak and Piper Jaffray are pumping the brakes a bit; Jaffray puts the stock at Hold based on valuation, while Miller sees "limited upside" for Chipotle's share price from its current $500-plus position.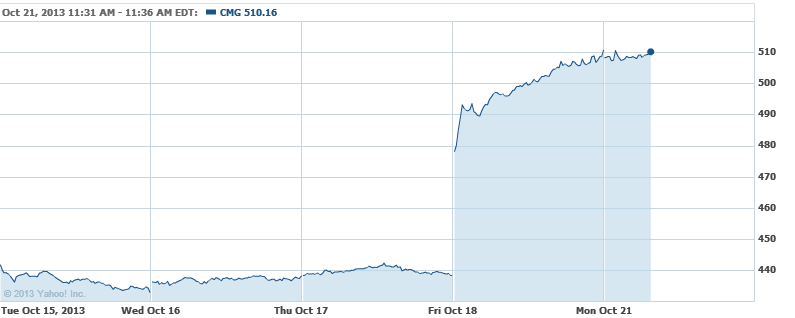 Don't Miss: 8 Must-Know Tips for Retiring Early.