Just as the Fed Said: Labor Good, Not Great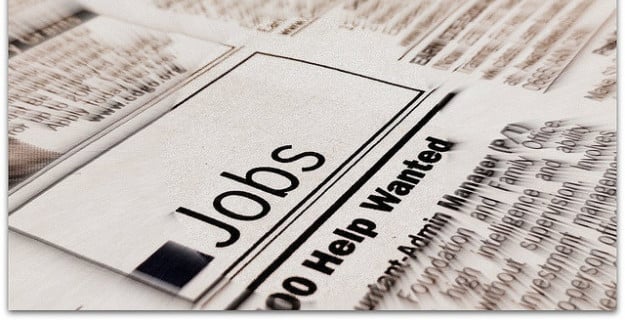 On Wednesday, the Federal Reserve told America that the economy and the labor market were not so strong that it was time to begin tapering off its monthly $85 billion bond purchases. While the situation continues to improve, the central bank decided to "await more evidence that progress will be sustained before adjusting the pace of its purchases." Federal officials say that the unemployment rate, which dropped to 7.3 percent in August, will fall to between 7.1 percent and 7.3 percent by the end of the year and to 6.5 percent, the Fed's target unemployment rate, sometime in 2014.
However, an improved unemployment situation takes more than a declining unemployment rate. The reason the unemployment rate fell in August was not because the ranks of the unemployed were significantly reduced, but because of the number of job hunters that dropped out of the workforce. The share of working-age Americans who were employed or looking for work fell to 63.2 percent last month — its lowest level since 1978.
Meanwhile, that month, the Department of Labor's Employment Situation Report showed that the total number of unemployed persons remained little changed at 11.3 million while the number of long-term unemployed, those jobless for 27 weeks or more, was relatively unchanged at 4.3 million. Most data suggests that while layoffs are declining, job creation has yet to pick up significantly.
Initial claims for unemployment benefits rose for the week ended September 14, but the increase was smaller than expected after the previous week's computer malfunctions prevented several states from processing all claims submitted. Applications jumped 15,000 to a seasonally adjusted 309,000 from last week's upwardly revised 294,000. Jobless claims provide the first look at the employment situation for any given month, but since the weekly figures can be volatile, economists use the four-week moving average to understand wider trends. In the past few weeks, the four-week moving average has averaged around 2007-levels, and last week, the figure plummeted 7,000 to 314,750.
Before the revision, last week's numbers were the fewest reported since 2006, a figure that indicated employers have ended the long cycle of elevated layoffs that characterized the 2007 to 2009 recession. Even at this week's slightly higher level, jobless claims are now trending down near the low 300,000 range, and with employers' addition of 169,000 jobs in August, the United States economy has created an average 180,000 jobs per month through the first eight months of the year.
But, unlike in 2006, when jobless claims also averaged around 300,000 the unemployment rate is much higher than 5 percent. Plus, the economy is creating fewer than 2006's average of 193,000 new jobs. That disparity means that employers are not adding as many workers to their payrolls as they normally do after a economic downturn even though the economy should be adding jobs at a much faster rate.
Since weekly applications for unemployment benefits serve as a proxy for layoffs, recent numbers indicate that employers are refraining for firing workers. Fewer layoffs mean that companies have pared their workforces about as much as possible, which puts employers in position to boost payrolls should business improve. But employers are still behaving as they did during the recession, keeping their workforces — and therefore labor costs — as low as possible.
Despite this week's swing, the trend in jobless claims is a downward one, showing to Federal Reserve policy makers that the labor market is strengthening. Analysts concur. "The labor market is genuinely improving," Brian Jones, senior U.S. economist at Societe Generale in New York, told Bloomberg. "Even if they're working through the backlog, these numbers seem to have a little bit more behind them than just processing problems."
For example, in the week ended August 31, the total number of people claiming benefits in all programs was 4,037,491, a decrease of 235,250 from the previous week. There were 5,173,597 persons claiming benefits in all programs in the comparable week in 2012. Plus, the number of people continuing to receive jobless benefits dropped by 28,000 to 2.79 million in the week ended September 7. But those individuals who have used up traditional benefits and are collecting emergency and extended payments remained relatively unchanged at 1.46 million in the week ended August 31, the most recently available data.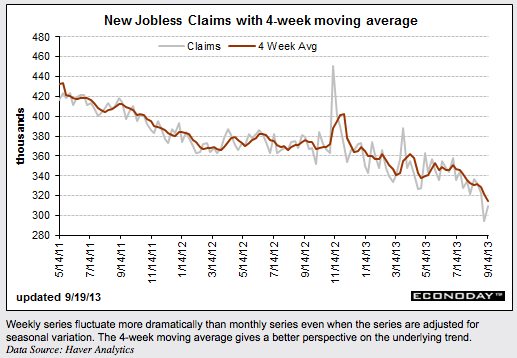 Follow Meghan on Twitter @MFoley_WSCS
Don't Miss: 7 Companies That Break the Advertising Bank.