KB Home Earnings Cheat Sheet: Loss Widens
KB Home (NYSE:KBH) reported its results for the second quarter. KB Home constructs and sells homes through its operating divisions across the United States under the name KB Home. It operates a homebuilding and financial services business serving homebuyers in markets nationwide.
Don't Miss: Wall St. Cheat Sheet's newest Feature Trades of the Month!
KB Home Earnings Cheat Sheet for the Second Quarter
Results: Loss widened to $68.5 million (89 cents/diluted share) from $30.7 million (loss of 40 cents/share) in the same quarter a year earlier.
Revenue: Fell 27.4% to $271.7 million YoY.
Actual vs. Wall St. Expectations: The mean estimate for KBH was a loss of 31 cents/share. Estimates ranged from a loss of 17 cents per share to a loss of 56 cents per share. It beat the average revenue estimate of $254.4 million.
Quoting Management: "Although a broad-based housing recovery remains stalled, it appears that the worst of the crisis is behind the homebuilding industry as select markets for new homes are showing signs of stability," said Jeffrey Mezger, president and chief executive officer. "Uncertainty and caution about the economy are keeping many qualified homebuyers from entering the market, even though historically high housing affordability makes this a good time to buy. We believe the current housing market conditions will likely continue until there are meaningful and sustained improvements in job growth and consumer confidence."
Key Stats:
Revenue has fallen for the past three quarters. In the first quarter, revenue declined 25.4% to $196.9 million while the figure fell 33.1% in the fourth quarter of the last fiscal year from the year earlier.
The company has now fallen short of estimates in the last two quarters. In the first quarter, it missed expectations by 63 cents with a loss of -90 cents versus a mean estimate of a loss of 27 cents per share.
Competitors to Watch: PulteGroup, Inc. (NYSE:PHM), Lennar (NYSE:LEN), D.R. Horton, Inc. (NYSE:DHI), Standard Pacific Corp. (NYSE:SPF), Meritage Homes Corporation (NYSE:MTH), Toll Brothers, Inc. (NYSE:TOL), M.D.C. Holdings, Inc. (NYSE:MDC), The Ryland Group, Inc. (NYSE:RYL), Home Depot (NYSE:HD), Lowe's (NYSE:LOW) and Comstock Homebuilding Companies, Inc. (NASDAQ:CHCI).
Stock Performance: Shares of KBH are down over 5% this morning…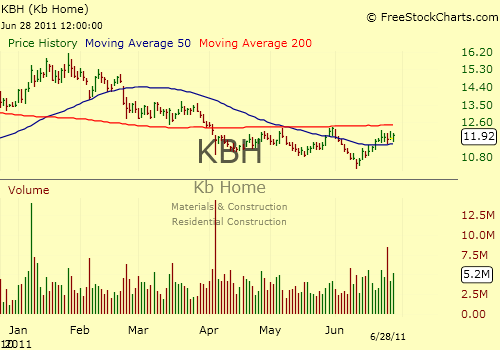 Don't Miss Wall St. Cheat Sheet's newest Feature Trades of the Month!
(Source: Xignite Financials)