Kelly Services Earnings: Swinging to a Profit
Kelly Services, Inc. (NASDAQ:KELYA) reported its results for the first quarter. Kelly Services, Inc. is a global workforce solutions provider operating in all major markets throughout the world. It assigns professional and technical employees in the fields of creative services, education, legal, and health care.
Don't Miss: Wall St. Cheat Sheet's newest Feature Trades of the Month!
Kelly Services Earnings Cheat Sheet for the First Quarter
Results: Swung to a profit of $1.1 million (3 cents/diluted share) in the quarter. The Kelly Services, Inc. had a net loss of $2 million or a loss 6 cents per share in the year earlier quarter.
Revenue: Rose 18.5% to $1.34 billion YoY.
Actual vs. Wall St. Expectations: KELYA reported adjusted net income of of 14 cents/share. By that measure, the company beat the mean estimate of 12 cents/share. Estimates ranged from 3 cents per share to 18 cents per share.
Quoting Management: Commenting on the first quarter results, Carl T. Camden, President and Chief Executive Officer stated, "We continue to see evidence of a solid, sustainable economic recovery. Kelly's revenue growth for the period certainly confirms that we are on track for a profitable year." Camden added, "Until full confidence is restored, and employers remain cautious about ramping up too aggressively, this environment seems to favor the staffing industry — and we intend to capitalize on the opportunities presented. "Going forward, Kelly is committed to improving our competitive position and enhancing shareholder value by delivering customer-focused workforce solutions — spanning traditional staffing, professional and technical offerings, and outsourcing and consulting services, and maintaining talent excellence throughout our company."
Key Stats:
Over the last five quarters, revenue has increased 15.6% on average year over year. The biggest increase came in the third quarter of the last fiscal year, when revenue rose 22.4% from the year earlier quarter.
Competitors to Watch: SFN Group Inc (NYSE:SFN), Barrett Business Services, Inc. (NASDAQ:BBSI), Robert Half Intl. Inc. (NYSE:RHI), Kforce Inc. (NASDAQ:KFRC), TrueBlue, Inc. (NYSE:TBI), COMFORCE Corporation (CFS), ManpowerGroup (NYSE:MAN), ClearPoint Business Resources, Inc. (CPBRQ), Volt Information Sciences, Inc. (NYSE:VOL), and On Assignment, Inc. (NASDAQ:ASGN)
Stock Performance: Shares of KELYA are unchanged from the previous close of $19.59.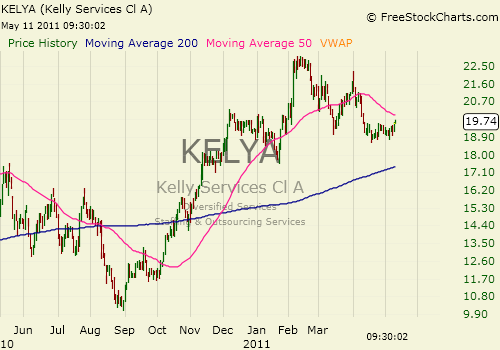 Don't Miss Wall St. Cheat Sheet's newest Feature Trades of the Month!