KeyCorp Earnings: Swinging to a Profit
S&P 500 (NYSE:SPY) component KeyCorp (NYSE: KEY) swung to a profit in the first quarter and beat Wall Street's expectations in the process. KeyCorp is a financial holding company that offers its clients retail and commercial banking, commercial leasing, investment management, consumer finance and investment banking products and services.
Don't Miss: Wall St. Cheat Sheet's newest Feature Trades of the Month>>
KeyCorp Earnings Cheat Sheet for the First Quarter
Results: Swung to a profit of $263 million (19 cents/diluted share) in the quarter. The money center banks company had a net loss of $55 million or a loss of 11 cents per share in the year earlier quarter.
Revenue: Non-interest income rose to $457 million from $450 million.
Actual vs. Wall St. Expectations: KEY beat the mean analyst estimate of 15 cents/share. Estimates ranged from 9 cents per share to 21 cents per share.
Quoting Management: "Our first quarter results demonstrate continued improvement in asset quality and disciplined expense control, and underscore our successful emergence from the recession," said Chairman and Chief Executive Officer Henry L. Meyer III. "Coupled with our successful capital actions during the quarter and TARP repayment, Key emerges in an excellent position to compete and grow under the leadership of CEO-elect Beth Mooney and her team."
Competitors to Watch: Bank of America (NYSE:BAC), Wells Fargo & Company (NYSE:WFC), KeyCorp (NYSE:KEY), Umpqua Holdings (NASDAQ:UMPQ), JPMorgan Chase & Co. (NYSE:JPM), Citigroup (NYSE:C), and U.S. Bancorp (NYSE:USB).
Today's Performance: Shares of KEY are trading at $8.87 as of April 18, 2011 at 8:40 AM ET, up 0.57% from the previous close.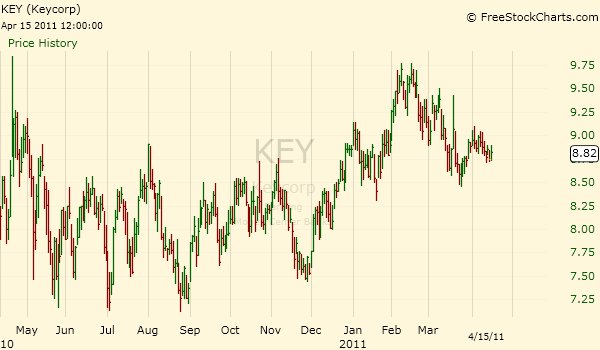 Don't Miss Wall St. Cheat Sheet's newest Feature Trades of the Month!