Knoll Earnings Cheat Sheet: Revenus Rise 26% and Stock Surges
Knoll Inc. (NYSE:KNL) and its subsidiaries are engaged in the design, manufacture and sale of office furniture products and accessories, focusing on the middle to high-end segments of the contract furniture market. Knoll, Inc. (NYSE:KNL) reported higher profit for the first quarter as revenue showed growth.
Don't Miss: Wall St. Cheat Sheet's newest Feature Trades of the Month>>
Knoll (NYSE:KNL) Earnings Cheat Sheet for the First Quarter
Revenue: Rose 26% to $220.9 million YoY.
Actual vs. Wall St. Expectations: KNL fell right in step with the street's estimates of 20 cents/share.
Quoting Management: "We have now seen three consecutive quarters of strong orders and sales growth across all our product categories with systems showing the greatest improvement this quarter. Since systems has lagged the other categories in the recovery and declined the most during this recession, this improvement bodes particularly well for us because of our strong systems position," stated Barry L. McCabe, EVP & CFO.
Key Stats: Last quarter marked the fifth straight quarter that the company saw shrinking gross margins. Over that time, margins have contracted on average 2.7 percentage points per quarter on a year-over-year basis. Net income has increased 84.9% year over year on average across the last five quarters. The biggest gain came in the most recent quarter, when income climbed more than fourfold from the year earlier quarter. Over the last five quarters, revenue has increased 9.1% on average year over year. The biggest increase came in the fourth quarter of the last fiscal year, when revenue rose 30.4% from the year earlier quarter.
Competitors to Watch: Herman Miller (NASDAQ:MLHR), HNI Corp (NYSE:HNI), and Steelcase (NYSE:SCS).
Today's Performance: Shares of KNL are trading at $21.02 as of April 15, 2011 at 1:41 PM ET, higher 7% today: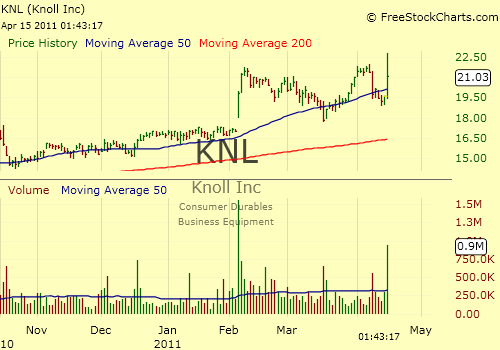 Don't Miss: Wall St. Cheat Sheet's newest Feature Trades of the Month!