Kohls Corporation Earnings: Net Income Rises
S&P 500 (NYSE:SPY) component Kohls Corporation (KSS) reported its results for the most recent quarter. Kohl's Corp. operates department stores that offer apparel, footwear and accessories as well as home products and housewares.
Don't Miss: Wall St. Cheat Sheet's newest Feature Trades of the Month!
Kohls Corporation Earnings Cheat Sheet
Results: Net income for the company rose to $211 million (73 cents/share) from $199 million in the year ago quarter.
Actual vs. Wall St. Expectations: KSS beat the mean analyst estimate of 72 cents/share. Estimates ranged from 70 cents per share to 75 cents per share.
Quoting Management: Kevin Mansell, Kohl's chairman, president and chief executive officer, said, "We are pleased that we were able to achieve double-digit growth in earnings per share through strong expense management and continued gross margin improvement. We also distributed our first-ever dividend of $0.25 per share and repurchased $445 million of our shares within the quarter as we remain committed to delivering excess cash to our shareholders."
Competitors to Watch: J.C. Penney Company, Inc. (NYSE:JCP), Sears Holdings Corporation (NASDAQ:SHLD), Macy's, Inc. (NYSE:M), The Bon-Ton Stores, Inc. (NASDAQ:BONT), Dillard's, Inc. (NYSE:DDS), Saks Incorporated (NYSE:SKS), Nordstrom, Inc. (NYSE:JWN), Wal-Mart (NYSE:WMT), Nordstrom (NYSE:JWN), The TJX Companies (NYSE:TJX), Target Corporation (NYSE:TGT), Overstock.com, Inc. (NASDAQ:OSTK), and QKL Stores Inc (NASDAQ:QKLS)
Stock Performance: Shares of KSS are down this morning a little under 1% from the previous close of $53.61.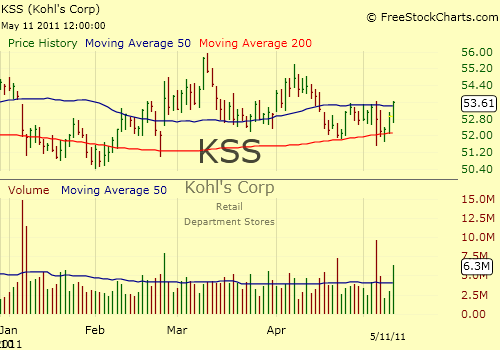 Don't Miss Wall St. Cheat Sheet's newest Feature Trades of the Month!