Krispy Kreme Is Getting Ready to Glaze Donuts in India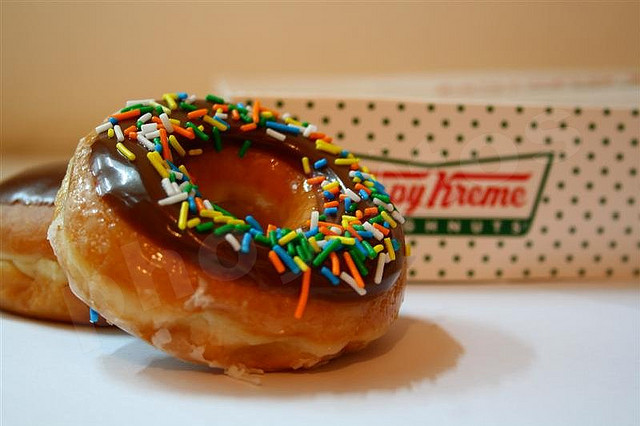 Starbucks (NASDAQ:SBUX) is expanding more in India, and Krispy Kreme Doughnut (NYSE:KKD) wants to come, too. Analysts at Zachs.com reported the news via Nasdaq Friday that the doughnut maker is preparing to open its first franchised outlet in Delhi, the capital of India, this week, and it will do so thanks to a franchise agreement the company secured with Bedrock Foods Pvt. in May 2012.
Krispy Kreme shares were rising Monday at the start of a new trading week, and they sat up 0.83 percent at $18.19 as of 11:40 a.m. Earlier in 2013, investors worried that rising expansion costs would thwart the Winston Salem, North Carolina-based company's expansion efforts, but Krispy Kreme executives have now made it clear that they are ready to set up shop in the world's most lucrative markets, regardless of the costs.
Zacks analysts report that the doughnut company is especially confident about its prospects in India because the country's growing middle class is giving way to a fruitful retail market, and Krispy Kreme also has the ability to adjust its food offerings to make sure it can effectively cater to the Indian tastebuds. For example, because the majority of the country's population is vegetarian, Krispy Kreme will prepare to load more eggless doughnuts into its ovens.
Zacks analysts maintained confidence in their blog post Friday that Krispy Kreme's expedition into India will be a fruitful one, because not only is the company opening its doors in a city that hosts government organizations, IT firms, and universities — it also has its alliance with Bedrock Foods to benefit from. The analysts report that Bedrock Foods has had its hand in the Indian franchisee market for a significant amount of time — even securing the rights to a license for developing Subway restaurants across Northern, Western, and Southern India — and the new power duo now expects to open 34 Krispy Kreme restaurants in Northern India over the next four years.
Since its new shop in Delhi is located in a traffic-heavy neighborhood, and Bedrock Foods is well established, analysts say that, "Delhi is one of the most vital locations in India. Strategically positioned at Select City Walk mall in Saket, the new restaurant is expected to attract huge traffic, going ahead."
Thus, heavily competing with Starbucks and Dunkin Donuts (NASDAQ:DNKN) in the U.S., it is clear that Krispy Kreme is ready to aggressively continue its expansion efforts, and this time put out an official sign in India. Zacks analysts report that the company currently operates more than 790 restaurants worldwide, nearly 70 percent of them near located in international markets, but it has yet to lay claim to any territory in India, and this week, that will change. Krispy Kreme hopes to open 900 international units by 2017.
Don't Miss: 5 Really Surprising Facts About Your Food.