Late-Day Lufkin Shareholder Alert and 2 Stocks at 52-Week Highs
Sprint Nextel Corportion (NYSE:S): Closing price $6.30
Sprint has moved to a Challenger position within the most recent Gartner Magic Quadrant for Global Network Service Providers. Since the previously published Magic Quadrant report, Sprint has increased its world MPLS, Ethernet and SIP Trunking coverage for business and wholesale customers. Vice President, Wireline and Solutions Engineering, Mike Fitz commented that "Our sharp focus and investment on domestic and global MPLS footprint expansion and growing product portfolio has delighted both business and wholesale customers, and this, we believe, led to Gartner advancing Sprint from a Niche Player in last year's report to a Challenger position in this year's." Shares closed up 1.12 percent on Monday at $6.30, and have been traded between $2.30 and $6.33 in the last 52 weeks.

Lufkin Industries (NASDAQ:LUFK): Closing price $87.96
Shares went through the roof earlier Monday on word that Lufkin was being acquired by General Electric Company. However, a couple of hours after the close, a shareholder alert was released with the following information: "Levi & Korsinsky is investigating the Board of Directors of Lufkin Industries  for possible breaches of fiduciary duty and other violations of state law in connection with the sale of the Company to General Electric Co." Shares closed up 37.59 percent on the day at $87.96, having been traded in a 52-week range of $45.11 to $88.57.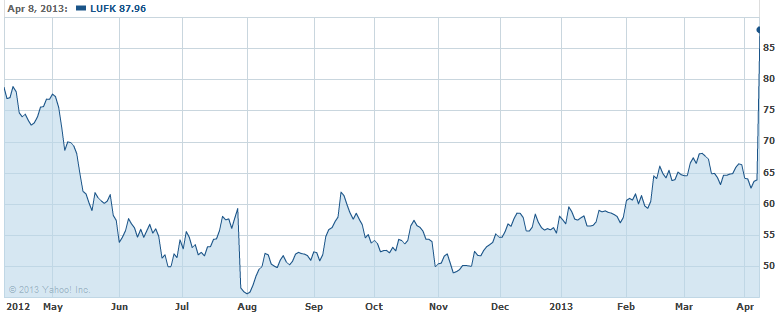 Macy's (NYSE:M): Closing price $43.99
On Monday, Macy's and J.C. Penney Co. (NYSE:JCP) were back in court, resuming their battle over Martha Stewart, while Penney's Chief Executive Ron Johnson was ousted after a plunge in sales. A whole month of mediation did not resolve the problem, so the trial got back on track in New York state court regarding whether Macy's has an exclusive right to sell certain Martha Stewart home goods products. The historic retailer said it would replace Johnson with his predecessor Mike Ullman but it remains unclear how Johnson's departure will affect the lawsuit. Shares closed up 1.38 percent on Monday at $43.99, and have been traded in a 52-week range of $32.31 to $44.24.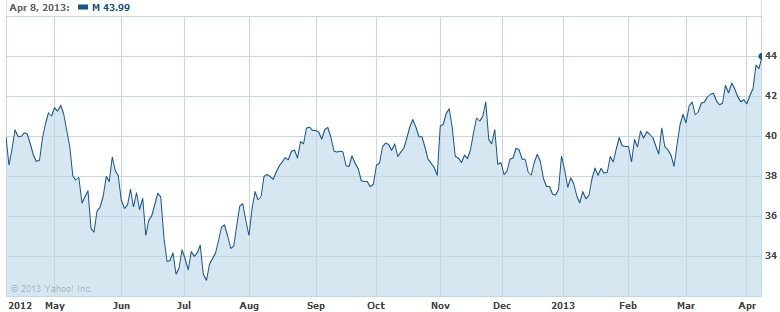 Don't Miss: Are Investors Running to the Hills with Jim Rogers?