Lawrence Summers: U.S. Debt Will be Paid, and Paid On Time
Former Treasury Secretary Lawrence Summers may not have gotten a Federal Reserve chair nomination — that went to current Fed Vice Chair Janet Yellen last week — but that doesn't mean his commentary on politics and the economy should be overlooked.
Despite some infamous policy blunders during his time in Washington (he'll never live down the Gramm-Leach-Bliley Act, which repealed key provisions off the Glass-Steagall Act and arguably paved the way for the late-2000s financial crisis), he is still one of the nation's top economic thinkers.
Speaking on Tuesday at the World Knowledge Conference in Seoul, Summers reiterated his belief that the U.S. economy is by no means out of the woods. "Years after financial repair, we have made very little progress in restoring the level of GDP to its potential," he said, according to a transcript of his speech obtained by Bloomberg.
Summers specifically referenced the employment situation in the U.S., saying that "The fraction of the population that is employed has barely increased since the trough of the recession."
While headline unemployment has declined fairly steadily from a peak of 10 percent in October 2010, the labor force participation rate has declined alongside it. Alternative measures of employment like payroll to population have remained relatively unchanged.
As measured by Gallup, the payroll-to-population rate fell from 43.7 percent in August to 43.5 percent in September, a full percentage point below its year-ago level.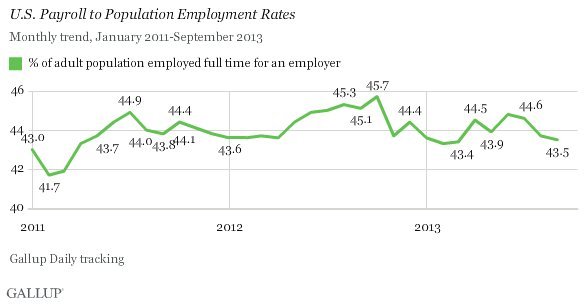 Summers also said he believes Congress will reach a debt ceiling deal before time runs out. The Treasury has stated that it will exhaust extraordinary financing measures come Thursday, after which point it will be left with some residual cash and incoming tax revenues to pay the nation's bills.
"We will not default," Summers said, according to the transcript obtained by Bloomberg. "I cannot say exactly how the political machinations will work out, but I am as certain as anything that any dollar of interest will be paid, and paid on time."
On that front, there is some hope. The Senate is working on pushing through a stopgap deal that could make its way through both houses, but the path forward is still unclear.
Don't Miss: Is Congress Bad for the Stock Market?