Leaked Views of Windows Blue and 2 Dow Movers To Watch Today
Microsoft Corporation (NASDAQ:MSFT): Current price $28.14
The Verge reports that leaked screenshots of an early model of the next version of Windows, called "Windows Blue," imply that Microsoft plans for smaller Live Tile arrangements, new Snap Views, larger control over personalization options and other modifications.

Pfizer (NYSE:PFE): Current price $28.07
The Japanese Ministry of Health, Labor and Welfare has okayed Pfizer's Xeljanz for the treatment of adults suffering from rheumatoid arthritis who have had an inadequate response to existing therapies. The drug may be used in patients in whom clinical symptoms due to the disease remain even after appropriate treatment with at least one other disease-modifying antirheumatic drug, such as methotrexate. Xeljanz will be available in Japan after the National Health Insurance listing and will be co-promoted there by Pfizer and Takeda Pharmaceutical Company Limited. Pfizer and Takeda also currently co-promote the RA drug Enbrel in that country.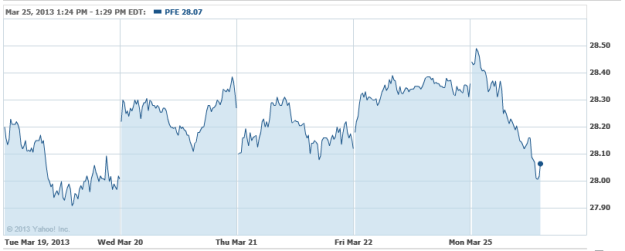 AT&T (NYSE:T): Current price $36.42
AT&T launched its sales of BlackBerry's (NASDAQ:BBRY) new Z10 smartphone in domestic stores on Friday, and analysts are divided over whether the launch was a success. In an early Monday note to investors, analyst Jim Suva at Citigroup wrote that AT&T does not appear to be very excited about the device, as the carrier is not promoting the Z10 very much inside its stores and is presenting the products in unfavorable locations. Also, less than 5 percent of the stores that Citigroup contacted report selling of their limited Z10 supplies out. Suva maintained a Sell on BlackBerry, and forecasts that its quarterly results, due on March 28, will disappoint. Meanwhile, Goldman Sachs downgraded Blackberry to Neutral from Buy, citing what it calls a disappointing intro of the Z10 at AT&T, during increased expectations for the firm, and lowered its price target on Blackberry shares from $19 to $17. On the other hand, analyst Peter Misek at Jefferies, after checking with more than ten of AT&T's stores, believes that the Z10′s sales are running a bit ahead of his modest expectations.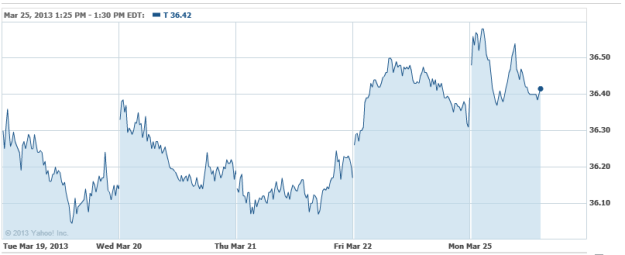 Don't Miss: Will This Company Beat Apple In Court Like It Did Microsoft?