Lear Corporation Earnings: Five Quarters of Double-Digit Revenue Growth
Lear Corporation (NASDAQ:LEA) reported net income above Wall Street's expectations for the first quarter. Lear Corporation and its affiliates design and manufacture complete automotive seat systems and the components thereof, as well as electrical distribution systems and electronic products.
Don't Miss: Wall St. Cheat Sheet's newest Feature Trades of the Month!
Lear Earnings Cheat Sheet for the First Quarter
Results: Net income for Lear Corporation rose to $156 million ($1.44/share) vs. $66.1 million (61 cents/share) in the same quarter a year earlier. A more than twofold rise from the year earlier quarter.
Revenue: Rose 19.5% to $3.51 billion YoY.
Actual vs. Wall St. Expectations: LEA beat the mean analyst estimate of $1.15/share. Estimates ranged from $1.04 per share to $1.35 per share.
Quoting Management: "Our positive momentum continued in the first quarter. Both of our business units reported increased sales and earnings. During the quarter, we initiated a cash dividend, authorized a $400 million share repurchase program and completed a stock split, reflecting our confidence in the business and our strong balance sheet. Despite an uncertain production environment in the near-term related to the disaster in Japan, we believe the industry will continue to grow over the foreseeable future," said Bob Rossiter, Lear's chief executive officer and president.
Key Stats:
The company has enjoyed double-digit year-over-year revenue growth for the past five quarters. Over that span, the company has averaged growth of 22.8%, with the biggest boost coming in the first quarter of the last fiscal year when revenue rose 35.5% from the year earlier quarter.
Last quarter marked the fifth consecutive quarter of gross margins expanding as the company's gross margin expanded 0.5 percentage point to 9.2% from the year earlier quarter. Over that span, margins have grown on average 5.8 percentage points per quarter on a year-over-year basis.
Competitors to Watch: Johnson Controls, Inc. (NYSE:JCI), Visteon Corporation (NYSE:VC), Gentex Corporation (NASDAQ:GNTX), Inter Groclin Auto SA (GCN), and APM Automotive Hldgs. Berhad (APM).
Today's Performance: Shares of LEA closed up 2.6%.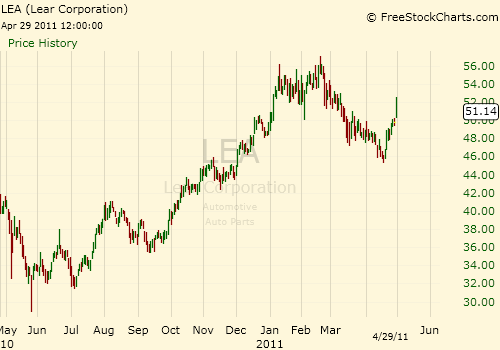 Don't Miss Wall St. Cheat Sheet's newest Feature Trades of the Month!