Legg Mason Earnings: Profits and Revenues Rise
S&P 500 (NYSE:SPY) component Legg Mason Inc. (NYSE:LM) reported a profit increase in the fourth quarter. Legg Mason Inc. is a global asset management company that offers investment management and related services to individual and institutional clients.
Don't Miss: Wall St. Cheat Sheet's newest Feature Trades of the Month!
Legg Mason Earnings Cheat Sheet for the Fourth Quarter
Results: Net income for Legg Mason Inc. rose to $69 million (45 cents/share) vs. $63.6 million (40 cents/share) in the same quarter a year earlier. A rise of 8.5% from the year earlier quarter.
Revenue: Rose 6.3% to $713.4 million YoY.
Actual vs. Wall St. Expectations: LM reported adjusted net income of of 77 cents/share. By that measure, the company beat the mean estimate of 45 cents/share. Estimates ranged from 41 cents per share to 49 cents per share.
Quoting Management: Mark R. Fetting, Chairman and CEO of Legg Mason said, "Legg Mason generated solid full fiscal-year 2011 earnings that were up 24% from the prior-year period, and stronger revenues which reflect higher performance fees and an increased advisory fee yield. Operating margins also improved from the year ago period. We remain on track to hit our annual expense savings targets of $130 million to $150 million in the March fiscal-year 2012 quarter, as announced at this time last year. During the fiscal year, we repurchased 9% of our outstanding shares, and ended the period with approximately $1.4 billion in cash. We were encouraged by the improving trend in long-term flows, reflecting continued strong performance for our clients. Having solidified our strategic growth objectives and realigned our executive team to support those initiatives during fiscal 2011, we are focused in fiscal 2012 on continuing to build a balanced portfolio of affiliates and investment capabilities across asset classes, geographies and channels, and delivering world-class corporate services in support of our affiliates."
Competitors to Watch: AllianceBernstein Holding LP (NYSE:AB), Westwood Hldgs. Group, Inc. (NYSE:WHG), Diamond Hill Investment Group, Inc. (NASDAQ:DHIL), Epoch Holding Corp (NASDAQ:EPHC), Morgan Stanley (NYSE:MS), Pzena Investment Management, Inc. (NYSE:PZN), Artio Global Investors Inc. (NYSE:ART), Sanders Morris Harris Group (NASDAQ:SMHG), The Blackstone Group L.P. (NYSE:BX), and Affiliated Managers Group, Inc. (NYSE:AMG)
Stock Performance: Shares of LM are unchanged in pre-market trading.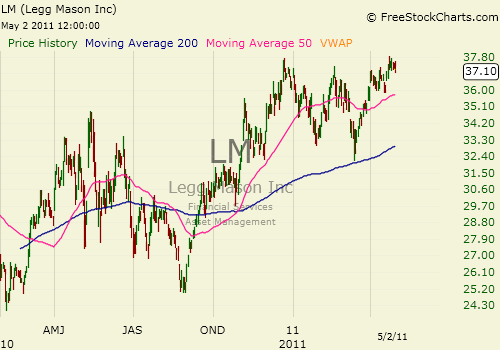 Don't Miss Wall St. Cheat Sheet's newest Feature Trades of the Month!