Lennar Corp Earnings Cheat Sheet: Profit Down but Still Beats Estimates
S&P 500 (NYSE:SPY) component Lennar Corporation (NYSE:LEN) posted lower net income in the second quarter compared with a year-earlier period. Lennar Corp. builds affordable, move-up and retirement homes primarily under the Lennar brand name throughout the United States.
Don't Miss: Wall St. Cheat Sheet's newest Feature Trades of the Month!
Lennar Earnings Cheat Sheet for the Second Quarter
Results: Net income for the residential construction company fell to $24.8 million (7 cents/share) vs. $46.6 million (21 cents/share) a year earlier. A decline of 46.7% from the year earlier quarter.
Revenue: Fell 6.1% to $764.5 million YoY.
Actual vs. Wall St. Expectations: LEN beat the mean analyst estimate of 4 cents/share. Estimates ranged from a loss of 10 cents per share to a profit of 15 cents per share. It beat the average revenue estimate of $643.1 million.
Quoting Management: Stuart Miller, Chief Executive Officer of Lennar Corporation, said, "We are pleased to report EPS of $0.07 for our second fiscal quarter of 2011. Despite operating in a challenging housing market that saw very little evidence of a spring selling season, we were still able to achieve strong results, making this our fifth consecutive quarter of profitability. Our new orders during the quarter were flat with last year notwithstanding the elevated level of sales in March and April of the prior year due to the Federal homebuyer tax credit.  For the month of May, new orders were up over 30%, while new orders declined approximately 11% in the prior two months. Given that the housing stimulus tax credit was eliminated in May 2010, we should experience favorable year-over-year comparisons going forward."
Key Stats:
Revenue has fallen for the past three quarters. In the first quarter, revenue declined 2.9% to $558 million while the figure fell 5.9% in the fourth quarter of the last fiscal year from the year earlier.
The company beat estimates last quarter after being in line with expectations in the first quarter with a loss of 6 cents per share.
Competitors to Watch: PulteGroup, Inc. (NYSE:PHM), KB Home (NYSE:KBH), D.R. Horton, Inc. (NYSE:DHI), Standard Pacific Corp. (NYSE:SPF), Meritage Homes Corporation (NYSE:MTH), Toll Brothers, Inc. (NYSE:TOL), M.D.C. Holdings, Inc. (NYSE:MDC), The Ryland Group, Inc. (NYSE:RYL), Home Depot (NYSE:HD), Lowe's (NYSE:LOW) and Comstock Homebuilding Companies, Inc. (NASDAQ:CHCI).
Stock Performance: Shares of LEN are up over 2%.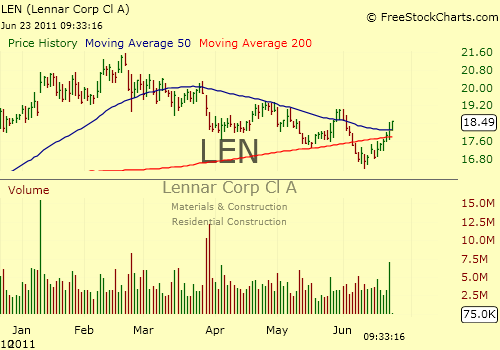 Don't Miss Wall St. Cheat Sheet's newest Feature Trades of the Month!
(Source: Xignite Financials)