Less Spending on Afghanistan and Iraq Means Fewer Federal Jobs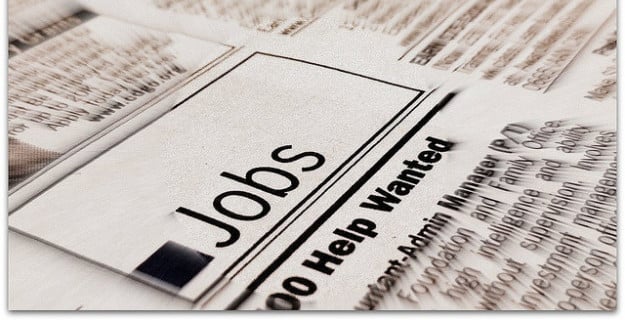 "U.S. job creation appears to have stabilized over the last several months in a more improved situation than was evident in the aftermath of the financial crisis and recession of 2008 — although still not back to where it was prior to those economic events," noted Gallup's Frank Newport, explaining the firm's monthly reading of the Job Creation Index, which remained at 22 in August.
The index has read 22 in three of the past four months and it fell to 21 in July. This means that since May, workers have reported that employers have been hiring and expanding the size of their staffs by a much larger percentage than they have been firing and reducing the size their staffs. However, it also means that the hiring pace has neither accelerated nor decelerated.
Gallup's Job Creation Index is derived by subtracting the percentage of workers who say their place of employment is letting workers go and reducing the size of its workforce from the percentage who say their employer is hiring and expanding the size of its workforce. This month, 38 percent of all U.S. workers said their employers were hiring, while just 16 percent said their employers were generally reducing the size of their workforces.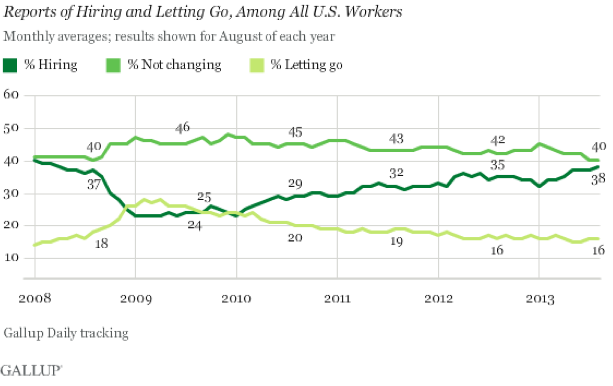 In that same May through August period, the U.S. Department of Labor has reported that the economy created 195,000; 188,000; 162,000; 175,000 jobs, respectively. Of course, the August figure is only the consensus estimate as the official number will not be released until Friday.
While Gallup's self-reported figure indicates that job creation in the United States is stable and the government's numbers only fluctuate between a 20,000-job range, July's meager 162,000 new jobs suggested that the country is still struggling to break out of its slow growth phase. That reality is also apparent in Gallup's reading of U.S. job creation. Even though the index has been inching up since the recession, it has not yet returned to its peak of plus 28, which came in January 2008, the first month the survey was conducted.
"It's just a very tough job market now. There's no other way of putting it," Daniel Opler, professor of history and a labor expert at the College of Mount St.Vincent, told CNBC for a Labor Day article."And the least skilled are in the toughest spot. It's a daunting task to find a job these days," he said. The United States economy not only created fewer than expected jobs in July, but the majority of the gains came in the low-wage retail and restaurant sector.
In general, economists are expecting that the pace of hiring will speed up once March's across-the-board spending cuts have worked their way through the system at the end of the fiscal system on September 30. But, of course, new problems have emerged.
Now, Congress must deal with the debate over raising the debt ceiling, including adding further austerity measures — and further austerity measures means that the problems created by the shrinking government could continue into the next year. "Whether there's less fiscal drag, more fiscal drag, or a train wreck, we still really don't know," MFR chief United States economist Joshua Shapiro told The New York Times after the August Employment Situation Report was released.
A particular drag to job creation has been job cuts at the federal government level. That private-sector workers now report more job creation than federal workers is a reversal of the situation in 2008 and 2009, according to Gallup. For example, in March 2009, federal government workers reported an overall plus 30 reading, which contrasted to the minus 5 logged by private sector workers.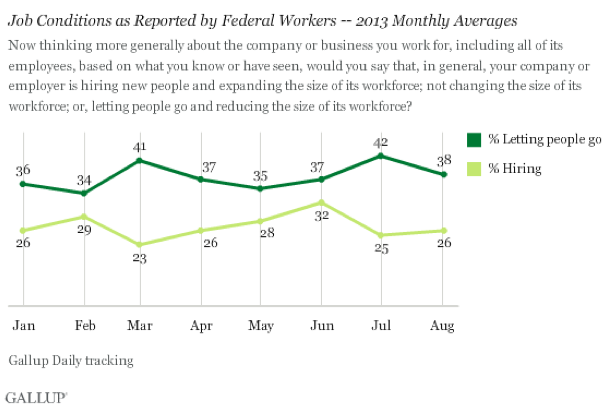 "The winding down of spending associated with the wars in Afghanistan and Iraq and the war on terror plus the increased pressure to cut government spending in the political arena in recent years have helped drive these changes," noted Newport. "The sequestration cuts in government spending that took effect earlier this year may also be a cause, although the negative hiring reports from federal workers were evident before sequestration occurred."
There is also another disconnect to consider. Even though the current rate of job creation is not stellar, it would typically coincide with faster-growing economic output. However, the United States' gross domestic grew at an annual rate of 2.5 percent in the second quarter and 1.1 percent in the first quarter, rates that are usually considered to be too weak to bring down unemployment significantly.
But it is likely that job growth and GDP growth will remain at odds for much longer. Still, the current pace of employment gains is  nowhere near enough to absorb the backlog of unemployed workers. According to the Hamilton Project at the Brookings Institution, it will take more than seven years at the current rate of job creation to close what is known as the jobs gap left by the recession.
A normal recovery from recession typically sees GDP growth of around 5 percent before stabilizing at around 3 percent. Even more concerning than the ongoing weak GDP growth is the fact that recoveries from recent recessions — 1990 to 1991, 2001 and 2007 to 2009 — have been so-called jobless recoveries, meaning the economy begins to grow without creating jobs, or at least without creating as many as it once did.
Another figure that contributes heavily into the employment situation is the unemployment rate. August's 162,000-job gain did push the unemployment rate down to 7.4 percent, the lowest in more than four years. But a shrinkage in the labor force also contributed to the decline, making it less impressive.
A survey released last month by recruiting firm Express Employment Professionals found that the number of Americans in the labor force, meaning those working or looking for a job, is at a 35-year low of 63.4 percent. That translates to 89.9 million Americans who do not have a job or are not looking for a job, which may seem high given the overall unemployment rate has fallen from 10 percent in October 2009 to a recent 7.4 percent in July.
Follow Meghan on Twitter @MFoley_WSCS
Don't Miss: Syria Is Barely a Blip on the International Oil Market.