Level 3 Communications Earnings: Snaps Four Quarters of Revenue Declines
Level 3 Communications, Inc.'s (NASDAQ:LVLT) first quarter loss narrowed, beating estimates. Level 3 Communications Inc. through its operating subsidiaries is facilities based provider of a range of integrated communications services.
Don't Miss: Wall St. Cheat Sheet's newest Feature Trades of the Month!
Level three Communications Earnings Cheat Sheet for the First Quarter
Results: Loss narrowed to $205 million (loss of 12 cents/diluted share) from $238 million (loss of 14 cents/share) in the same quarter a year earlier.
Revenue: Rose 2.1% to $929 million YoY.
Actual vs. Wall St. Expectations: LVLT reported an adjusted net loss of of 9 cents/share. By that measure, the company beat the mean analyst estimate of a loss of 10 cents/share. Estimates ranged from a loss of 8 cents per share to a loss of 12 cents per share.
Quoting Management: "We are pleased to report a solid quarter, giving us a strong start to 2011," said James Q. Crowe, CEO of Level three. "We see many opportunities across our customer base to continue growing our business throughout the year. Our customers require more and more bandwidth to support the continued adoption of video over the Internet, the continued growth in wireless broadband, and the rising demand for bandwidth in the enterprise market. Our mix of network assets, our service capabilities and our focus on customer service excellence are making Level three a top choice for wholesale and enterprise customers in the U.S. and Europe."
Key Stats:
A year-over-year revenue increase last quarter snaps a streak of four consecutive quarters of revenue declines. The worst quarter in that span was the first quarter of the last fiscal year, which saw a 7.1% decrease.
Gross margins grew two percentage points to 60%. The growth appeared to be driven by falling costs, as the figure fell 2.9% from the year earlier while revenue rose 2.1%.
Competitors to Watch: Global Crossing Ltd. (NASDAQ:GLBC), AT&T Inc. (NYSE:T), Verizon Communications Inc. (NYSE:VZ), tw telecom inc. (NASDAQ:TWTC), XO Holdings Inc. (XOHO), AboveNet, Inc. (NYSE:ABVT), PAETEC Holding Corp. (NASDAQ:PAET), Xfone, Inc. (AMEX:XFN), Tata Communications Ltd. (NYSE:TCL), and Cincinnati Bell Inc. (NYSE:CBB)
Stock Performance: Shares of LVLT are up 0.6% from the previous closing price of $1.64.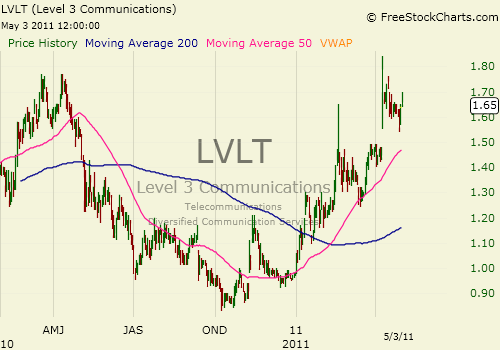 Don't Miss Wall St. Cheat Sheet's newest Feature Trades of the Month!