Life Technologies Earnings: Thank Goodness for Adjusted EPS
Adjusted profits at S&P 500 (NYSE:SPY) component Life Technologies Corporation's (NASDAQ:LIFE) were about inline with Wall Street expectations. Life Technologies Corporation is a global biotechnology tools company offering products that include systems, instruments, reagents and custom services.
Don't Miss: Wall St. Cheat Sheet's newest Feature Trades of the Month!
Life Technologies Earnings Cheat Sheet for the First Quarter
Results: Net income for Life Technologies Corporation rose to $93.6 million (50 cents/share) vs. $91.5 million (48 cents/share) in the same quarter a year earlier. A rise of 2.3% from the year earlier quarter.
Revenue: Rose 1.2% to $895.9 million YoY.
Actual vs. Wall St. Expectations: LIFE fell short of the mean analyst estimate of 86 cents/share as the company delivered 85 cents EPS on an adjusted basis. Estimates ranged from 83 cents per share to 93 cents per share.
Quoting Management: "Our ability to drive performance is a direct result of our commitment to innovation and operational excellence," said Gregory T. Lucier, Chairman and Chief Executive Officer of Life Technologies. "We continue to invest in important new products and emerging markets while working to become ever more efficient in our operations. We have laid the groundwork to accelerate both revenue and earnings in the remainder of the year and we are on track to meet our full year financial goals."
Key Stats:
The company has now seen net income rise in three-straight quarters. In the fourth quarter of the last fiscal year, net income rose 44.5% and in the third quarter of the last fiscal year, the figure rose more than twofold.
Competitors to Watch: Techne Corporation (NASDAQ:TECH), Qiagen NV (NASDAQ:QGEN), Affymetrix, Inc. (NASDAQ:AFFX), Sigma-Aldrich Corporation (NASDAQ:SIAL), Thermo Fisher Scientific Inc. (NYSE:TMO), Strategic Diagnostics Inc. (NASDAQ:SDIX), Agilent Technologies Inc. (NYSE:A), Bio-Rad Laboratories, Inc. (NYSE:BIO), PerkinElmer, Inc. (NYSE:PKI), and Johnson & Johnson (NYSE:JNJ).
Today's Performance: Shares of LIFE are trading down 2.1%.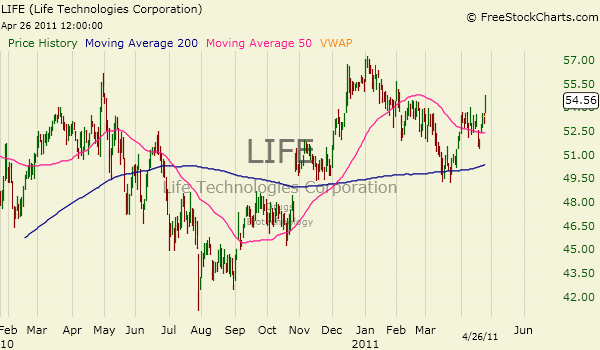 Don't Miss Wall St. Cheat Sheet's newest Feature Trades of the Month!