Life Technologies Finds A Parent and 2 Other Hot Stocks
Life Technologies: (NASDAQ:LIFE): Thermo Fisher Scientific has confirmed a deal to purchase Life Technologies for $13 billion, or $76 per share in cash. The purchase would allow Thermo Fisher to tap into the genetics testing industry, and the deal is regarded to be one of the largest corporate takeovers of the year. Fisher would also accrue about $2.2 billion in debt with the purchase. At 1:00 PM EST, shares of Life were up 7.5 percent.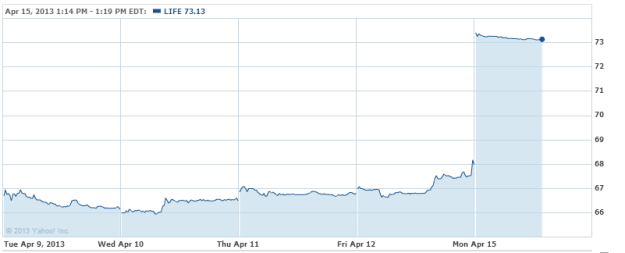 Citigroup (NYSE:C): In its latest quarterly earnings release, Citi reported earnings per share of $1.29, above the average analyst estimate of $1.17. Revenue came in at $20.8 billion excluding the credit and debt value adjustments, and made Citi one of the few banks which posted higher revenues than expected, beating projections by $0.65 billion. Net income of $3.8 billion represents a 30 percent hike on 2012′s first-quarter revenue of $2.9 billion. The bank cited wider spreads between the interests rates it pays for deposits and what it earns on loans and other investments. Loan losses declined substantially, giving the bank better margins as downtrends in mortgage foreclosures and layoffs helped keep those divisions strong.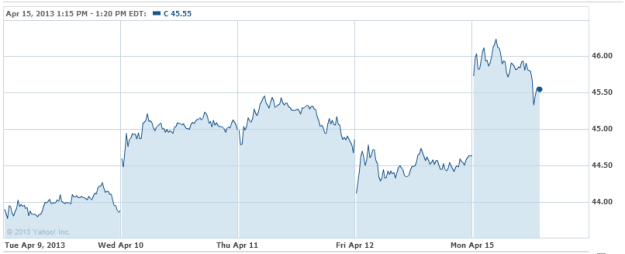 Rite Aid (NYSE:RAD): Shares of Rite Aid are leveling off after impressive gains made last week, following a better than expected earnings release on Thursday. Last Friday, Raymond James acknowledged the stock drive with an upgrade, and brought shares of Rite Aid from Perform to Outperform. On Monday afternoon, the stock sat down 1.95 percent, at 1:05 PM EST, to $2.27 per share.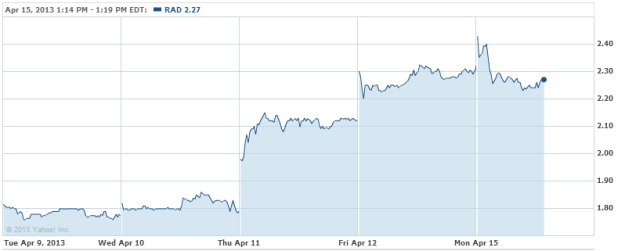 Investing Insights: Should You Hold On to Netspend?