Life Technologies Looks for Acquisition Partner and 4 Hot Stocks to Follow
Morgan Stanley (NYSE:MS): Current Price: $22.39
CEO Gorman has stated, "I believe we're done," regarding cutting jobs. He has also stated that compensation will see an increase when environment improves. According to Gorman, recruiting between financial firms has "died down," and he says that Morgan Stanley head count is down about 6,000 from start of last year. These comments were made in interview with CNBC.

Life Technologies Corporation (NASDAQ:LIFE): Current Price: $60.80
The company hopes it will be acquired by a private equity firm as part of a leveraged buyout, and it hopes to conclude the sale up by mid-February, according to Financial Post last night, citing sources. The price may be in the range of $65 to $75 per share, according to the report. The Fly reports that Life Technologies stated via a press release after last night's market close that it has retained Deutsche Bank Securities and Moelis & Company to assist in its annual strategic review, but has not decided on any specific course of action. Life's shares have seen a 16.8 percent rise during pre-market trading to $63.75.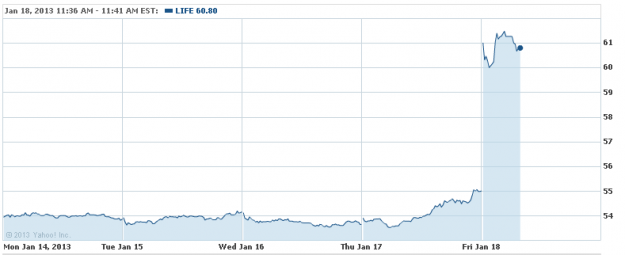 Start 2013 better than ever by saving time and making money with your Limited Time Offer for our highly-acclaimed Stock Picker Newsletter. Click here for our fresh Feature Stock Pick now!
General Electric Co. (NYSE:GE): Current Price: $21.93
GE is the top producer of aircraft engines and medical imaging equipment globally, but regarding its profits, it's very much a bank. GE Capital will likely account for about half the company's 2012 profit, according to the Wall Street Journal.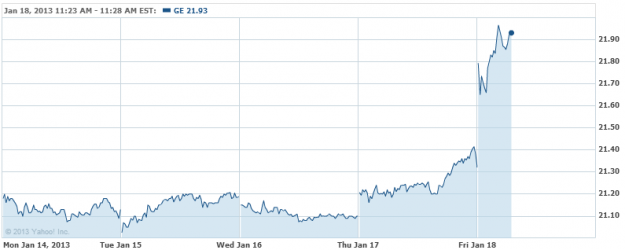 Research In Motion Limited (NASDAQ:RIMM): Current Price: $15.78
Research In Motion Ltd. has been able to climb to its highest price in nearly a year since a Jefferies & Co. analyst upgraded the stock to a Buy rating due to the possibility for its new software to offer corporate e-mail on rival devices.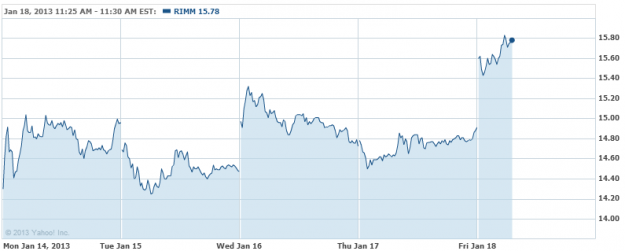 CSX Corp. (NYSE:CSX): Current Price: $20.96
Government officials believe that the Mississippi River will not be closed to barge shipping this year because of the river's low levels, despite the fact that barges have been forced to carry lighter loads than usual, The New York Times reports. The amount of ships that have been navigating the river is also fewer than usual, the newspaper said.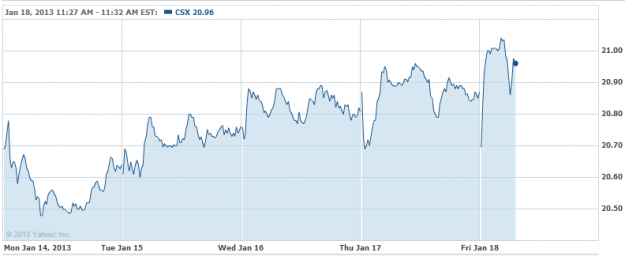 Don't Miss: Will Intel Underperform in the First Quarter?