Linear Technology Earnings: On a Roll
S&P 500 (NYSE:SPY) component Linear Technology Corporation (NASDAQ:LLTC) reported net income above Wall Street's expectations for the third quarter. Linear Technology Corp. offers a line of standard high performance linear integrated circuits.
Don't Miss: Wall St. Cheat Sheet's newest Feature Trades of the Month>>
Linear Technology Earnings Cheat Sheet for the Third Quarter
Results: Net income for the semiconductor company rose to $141.6 million (61 cents/share) vs. $100.6 million (44 cents/share) YoY. A rise of 40.7% from the year earlier quarter.
Revenue: Rose 13.4% to $353.2 million YoY.
Actual vs. Wall St. Expectations: LLTC beat the mean analyst estimate of 56 cents/share. Estimates ranged from 54 cents per share to 57 cents per share.
Quoting Management: According to Lothar Maier, CEO, "The quarter unfolded largely as expected. Revenues from our core analog markets decreased slightly as increases in our industrial and automotive core markets were modestly offset by decreases in the communications end market."
Key Stats:
The company has enjoyed double-digit year-over-year revenue growth for the past five quarters. Over that span, the company has averaged growth of 51.7%, with the biggest boost coming in the fourth quarter of the last fiscal year when revenue rose 76% from the year earlier quarter.
The company has now seen net income rise in three-straight quarters. In the second quarter, net income rose 90.3% and in the first quarter, the figure rose 126.2%.
Competitors to Watch: Intel Corporation (NASDAQ:INTC), Texas Instruments Incorporated (NYSE:TXN), National Semiconductor Corporation (NYSE:NSM), Analog Devices, Inc. (NYSE:ADI), QUALCOMM Incorporated (NASDAQ:QCOM), Broadcom Corporation (NASDAQ:BRCM), Marvell Technology Group Ltd. (NASDAQ:MRVL), Intersil Corporation (NASDAQ:ISIL), Maxim Integrated Products Inc. (NASDAQ:MXIM), and STMicroelectronics NV (NYSE:STM).
Today's Performance: Shares of LLTC are up close to 2% in after hours trading.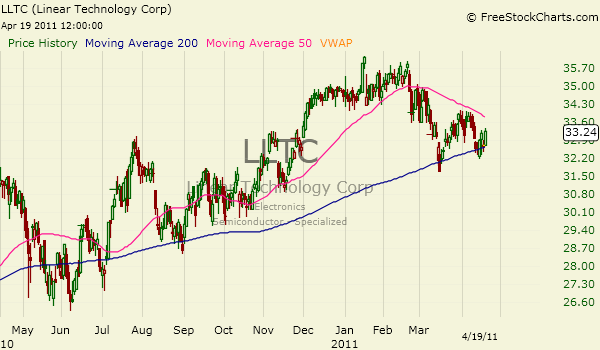 Don't Miss Wall St. Cheat Sheet's newest Feature Trades of the Month!