LinkedIn Connects With 238M Users for Another Strong Quarter
LinkedIn (NYSE:LNKD) released it second-quarter earnings after the bell Thursday, reporting that its profit rose 32 percent over the year from $2.8 million or $0.16 per share a year earlier in 2012 to $3.7 million or $0.38 per share. This surpassed analysts' estimates of $353.85 million and $0.31 per share.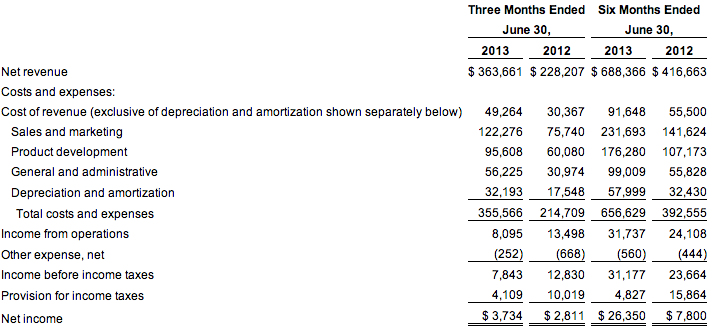 Revenue for the world's largest professional network on the Internet also increased 59 percent over the year, totaling $363.7 million, as opposed to $228.2 million a year earlier. This led LinkedIn's stock to rise 4.52 percent in after-hours trading to $213.00 as of 5:20 p.m. Thursday.
Jeff Weiner, CEO of LinkedIn, was very pleased with the results, noting, "Accelerated member growth and strong engagement drove record operating and financial results in the second quarter. We are continuing to invest in driving scale across the LinkedIn platform in order to fully realize our long-term potential."
As shares of LinkedIn continue to rise higher, analysts are taking note that the professional network has been able to report successively strong earnings ever since its initial public offering in 2011. In the second quarter of 2013, LinkedIn's membership grew to 238 million, reflecting a 37 percent growth year-over-year — and it doesn't look like the social networking site is stopping there. It expects to continue adding users to its network in the third quarter of 2013, and forecasts a revenue in the range of $367 million and $373 million, eventually hitting between $1.455 billion and $1.475 billion by the end of the year.
Activity on the site continues to rise as it's endorsed by notable professionals such as Bill Gates, Senator Elizabeth Warren, Jamie Dimon, and Burberry CEO Angela Ahrendts. Not only are these business people present on the site, but they also offer key insight and advice on their own personal LindedIn pages.
Earlier in the summer, Bill Gates made headlines when he offered readers three lessons he learned from Warren Buffet on his LinkedIn. The relaxed and informal tone Gates adopted as he spoke to his readers showcased LinkedIn as a casual platform where entrepreneurs and young business people could connect with successful business icons and subjects of startup success stories.
As the business site continues to grow its network, it's possible that LinkedIn will opt to partner with other social media sites as it works to expand its user sharing options.