Lions Gate Earnings Cheat Sheet: Profit Snaps Streak of Losses
Lions Gate Entertainment Corp. (NYSE:LGF) swung to a profit in the fourth quarter, beating Wall Street estimates. Lions Gate Entertainment Corp. is engaged in the production and distribution of motion pictures, television programming, home entertainment, family entertainment, video-on-demand and digitally delivered content.
Don't Miss: Wall St. Cheat Sheet's newest Feature Trades of the Month!
Lions Gate Entertainment Corp Earnings Cheat Sheet for the Fourth Quarter
Results: Swung to a profit of $46.1 million (33 cents/diluted share) in the quarter. Lions Gate Entertainment Corp. had a net loss of $22.3 million or a loss 19 cents per share in the year earlier quarter.
Revenue: Fell 6% to $376.9 million YoY.
Actual vs. Wall St. Expectations: LGF beat the mean analyst estimate of 18 cents/share. Estimates ranged from 10 cents per share to 22 cents per share.
Quoting Management: "Strong performances from our television business and our filmed entertainment library contributed to financial results that exceeded our preliminary estimates," said Lionsgate Co-Chairman and Chief Executive Officer Jon Feltheimer. "We were particularly pleased by near record international sales, reflecting the demand for content in the world marketplace, and rapid growth of high margin digital and on demand revenue. Our numbers going forward should reflect growing momentum in our film business from franchises like THE HUNGER GAMES, THE EXPENDABLES and WHAT TO EXPECT WHEN YOU'RE EXPECTING that we expect will have the capacity to generate more consistent year to year motion picture performance."
Key Stats:
LGF's profit in the latest quarter follows losses in the three previous quarters. The company reported a net loss of $6 million in the third quarter, a loss of $29.7 million in the second quarter and a loss of $64.1 million in the first.
Competitors to Watch: DreamWorks Animation SKG, Inc. (NASDAQ:DWA), The Walt Disney Company (NYSE:DIS), Rentrak Corporation (NASDAQ:RENT), Time Warner Inc. (NYSE:TWX), Seven Arts Pictures PLC (NASDAQ:SAPX), CKX Inc. (NASDAQ:CKXE), News Corporation (NASDAQ:NWSA), IMAX (NASDAQ:IMAX), Netflix (NASDAQ:NFLX), CBS Corp (NYSE:CBS), Comcast (NASDAQ:CMCSA), Discovery Communications (NASDAQ:DISCA) and Sony Corporation (NYSE:SNE).
Stock Performance: Shares of LGF are up 2% after hours.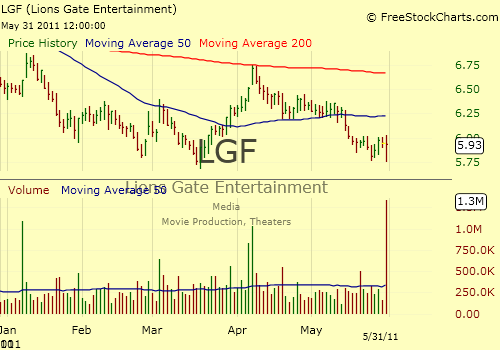 Don't Miss Wall St. Cheat Sheet's newest Feature Trades of the Month!
(Sources: YahooFinance, Xignite Financials)