Lionsgate Strikes Agreement With American Greetings and 4 Stocks Enjoying 52-Week Highs
Hologic (NASDAQ:HOLX): Closing price $22.36
Hologic reported a groundbreaking new study published in Radiology, the scientific journal of the Radiological Society of North America, which found that the addition of three-dimensional mammography screening tech to a two- dimensional breast screening examination significantly improved cancer detection while concurrently cutting the number of false positives, particularly for invasive cancers, and a simultaneous reduction in false-positive rates compared with two- dimensional mammography alone. Other significant findings include a 40 percent increase in the detection of invasive breast cancers, a 27 percent rise in the detection of all cancers, and a 15 percent drop in false-positive rates. Shares closed up 7.04 percent on the day at $22.36, having been traded in a 52-week range of $16.18 to $22.16.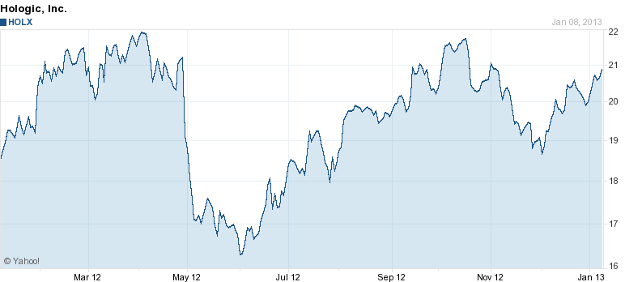 MasterCard Incorporated (NYSE:MA): Closing price $532.39
MasterCard Advisors, the professional services division of MasterCard, has issued a SpendingPulse report, which supplied total retail sales — excluding automotive — results for December. Total retail sales increased by 2.4 percent year-over-year and subtracting both autos and gasoline, retail spending rose by 2.8% in the same period. These numbers are down from total retail sales (ex-auto) growth of 4.5 percent in November. Shares closed up 2.81 percent on the day at $532.39, and have traded in a 52-week range of $336.26 to $521.30.
Start 2013 better than ever by saving time and making money with your Limited Time Offer for our highly-acclaimed Stock Picker Newsletter. Get our fresh Feature Stock Pick now!
Parexel International Corporation  (NASDAQ:PRXL): Closing price $32.51
The company reaffirms its fiscal year 2013 revenue estimate between $1.675 billion and $1.695 billion, against a consensus of $1.67 billion, and also its operating margin outlook of between 8 and 9 percent. Shares closed down 1.45 percent on the day at  $32.51, having been traded in a 52-week range of $20.11 to $33.13.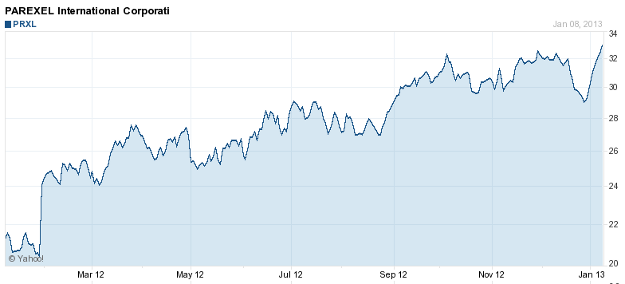 US Airways Group (NYSE:LCC): Closing price $15.13
American Airlines parent AMR (AAMRQ) is not likely to decide this week on a potential merger with US Airways , according to the Charlotte Observer. Shares closed down 0.2 percent on the day at $15.13, and have been traded in a 52-week range between  $5.67 and $15.25.
Lions Gate Entertainment Corporation (NYSE:LGF): Closing price $17.51
Lions Gate  and American Greetings Properties, which is the intellectual property and outbound licensing unit of American Greetings (NYSE:AM), have reported a home entertainment distribution arrangement for the new CGI Animated TV series Care Bears: Welcome to Care-a-Lot. The accord allows Lionsgate packaged and digital rights in both the United States and in the United Kingdom to all 26 episodes, which began on The Hub in 2012. Additionally, the firms are extending their existing contract, with Lionsgate keeping its rights to the two previous Care Bears television series and five Care Bears movies. Shares closed up 0.29 percent on the day at $17.51, having been traded in a 52-week range between $8.54 and $18.62.
Don't Miss: The iPad is King as Tablets Crush PCs.