Listen Up Fed: Umployment Dropped to 5-Year Low
Those economists who expected the labor market recovery to take giant steps toward the end of the year were correct. On Friday, the jobs report released by Department of Labor's Bureau of Labor Statistics provided evidence to support the recovery narrative. United States employers added 203,000 jobs to their payrolls in November, beating expectations for a 180,000-job gain.
That improvement made November the fourth straight month of solid hiring, helping the unemployment rate to fall 0.3 percentage point to 7 percent — a five year low. Now, including the downward revision of October job growth to 200,000 from 204,000, the U.S. economy added an average of 204,000 jobs from August through November, an increase from the 159,000 per month added between April and July.
"The labor market continues to improve," Societe Generale economist Brian Jones told Bloomberg before Thursday's jobless claims report was released "Not only is the rate of layoffs slowing precipitously, more people are finding work." He made similar comments after ADP's National Employment report was published earlier this week, noting that his firm was "optimistic on growth next year, continued improvement, further reductions in the jobless rate." Both reports hinted at a strong November; the payroll processor announced employers added 215,000 workers to their payrolls in November, the strongest month for job growth in 2013, while initial claims for unemployment benefits — a proxy for layoffs — dropped to a two-month low.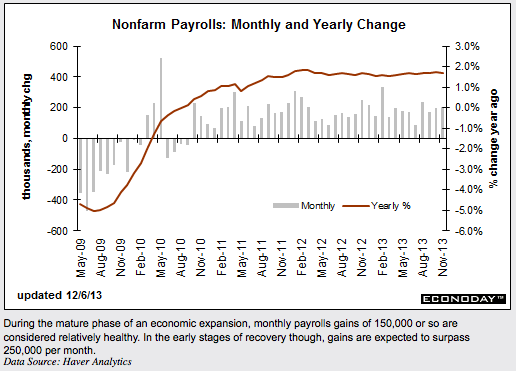 Some economists had worried that the October jobs report would be hurt by the 16-day government shutdown, but instead it showed the resilience of the labor market. Yet, there was still the concern that the numbers were somewhat inflated. The Department of Labor sources data in two separate surveys — one of households to determine the unemployment rate and one of public-sector employers and private companies to calculate how many jobs the economy created.
For the October report, furloughed government workers were counted as unemployed for the household survey but as employed for the second survey. That is part of the reason why job growth appeared so healthy but the unemployment rate rose. But job growth continued charting an upward course in November. Plus, both unemployment rate rose and the labor force participation rate — the share of working-age Americans who were employed or looking for work — dipped, meaning discouraged workers were dropping out of the job hunt.
One concern that has dogged the jobs report for months is how many part-time, low wage jobs the economy was creating. But last month, many of the jobs created were in higher-paying industries. Manufacturers added 27,000 new positions, the most since March 2012, while construction firms created 17,000 jobs. Together, those two industries have added 113,000 jobs to payrolls in the past four months. However, another concern facing the labor market remained unresolved. The labor force participation rate was 63 percent, hardly a change from October's unimpressive 62.8 percent. That increase means the labor force grew by 455,000 workers in November, reflecting an increase of 818,000 in the number of employed Americans. The gains in labor force and employment followed declines in October.
The decrease in the unemployment rate and recent job growth indicate that economic growth has accelerated by a small degree very recently. Contributing to that view is this month's upward revision of third-quarter gross domestic product to an annual rate of 3.6 percent. The increase surpassed analysts' expectations for a 3.1 percent growth rate and, more importantly, would have been considered decent growth even before the 2008 financial crisis readjusted what is considered normal.
However, economists are concerned the growth could be unsustainable because it was primarily motivated by an acceleration in private inventory investment. That means businesses stocked up their inventories in the last quarter, and if consumer spending and exports remain low, those inventories will remain high, leading companies to decrease output in the current quarter.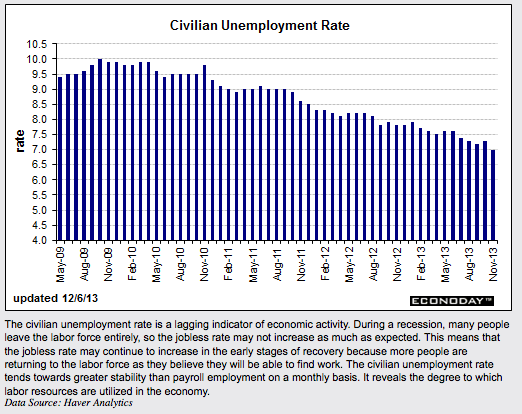 Evidence of the strengthening job market will be of especial interest to the Federal Reserve, whose policymakers may soon scale back its monthly monetary stimulus program. "In our view, the strength in the October employment report put the possibility of a December taper back on the table, after a weak September employment report had dimmed the prospects," Deutsche Bank chief U.S. economist Joe LaVorgna told Business Insider. "Another month of solid job gains (inclusive of revisions) increases the probability that policymakers will taper when they meet at the December 17-18 [Federal Open Market Committee] meeting."
Still, it must be remembered that the falling unemployment rate hides some dismal realities; the labor situation is not improving for all Americans. The unemployment rate among workers between the ages of 16 and 19 remained above 20 percent, and for workers without a high school diploma, the jobless rate stood at 10.8 percent. Also, as ongoing proof that it will take the United States years to fill in the job gap left by the recession, the Labor Department's October numbers show that 10.9 million Americans who wanted and were looking for work could not find employment last month.
However, that is a significant decrease from the 11.3 million recorded in October. Plus, the number of individuals employed part time for economic reasons — workers who are referred to as involuntary part-time workers — fell by 331,000 to 7.7 million last month. But, the number of long-term unemployed — those jobless for 27 weeks or more — was essentially unchanged at 4.1 million. More encouragingly, a broader measure of employment, the U-6 unemployment rate, which includes discouraged workers and involuntary part-time workers — fell to 13.2 percent from 13.8 percent.
Follow Meghan on Twitter @MFoley_WSCS
Don't Miss: 5 Politically Unstable Nations Explained.