LIVE Debate: Icahn Only Cares About Making Money, Not Ackman
The battle between Carl Icahn and Bill Ackman over Herbalife (
Icahn recently filed a disclosure with the Securities and Exchange Commission that shows he bought more than 14 million shares of the nutritional supplement marketer. Through common shares and options, Icahn has a 13 percent stake in the company. After extensive research, he believes Herbalife has a legitimate business model with favorable long-term opportunities for growth, while Ackman is short more than 20 million shares, because he believes it is a pyramid scheme.
On Friday, Icahn appeared on CNBC to further discuss his position, despite saying last month he would never do a show with Scott Wapner again. On the show, Icahn said he buys companies that are undervalued, and he believes Ackman has provided him a "great opportunity" with Herbalife. Icahn says he has done a "hell of a lot of research on this." He also criticizes Ackman for being "unfair" and essentially going after the employees and shareholders of Herbalife through his actions.
Icahn Highlights:
"Herbalife is at the center of a paradigm shift, multi-level marketing is here to stay."
"Herbalife gives people an opportunity to make money."
"I don't like Ackman, I don't respect him, everybody knows that."
"I made money in short positions by keeping quiet about them."
He also notes that he is investing in Herbalife, because he believes in the company and it has strong cash flows. It is a "huge risk to go public with a short, you live and die by the sword."
"I'm doing this to make money. That's what I do." The fact that I don't like Ackman is the strawberry on the ice cream."
" I don't think I'm going to be wrong in this situation."
"I'm sure he (Ackman) was resolute about Target, I'm sure he was resolute about JC Penney."
At the end of the show, he reiterated that his Herbalife position was about making money. "This isn't about a good guy or bad guy." Icahn believes Ackman is wrong and "in the end, only time will tell."
Here's how shares of Herbalife traded: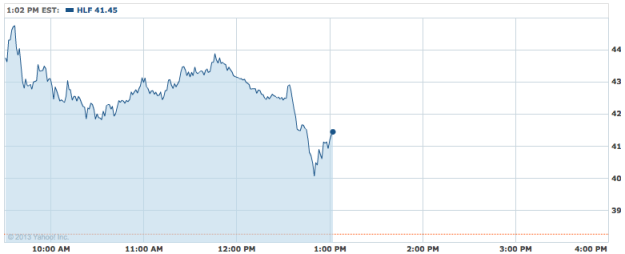 Shares declined as Icahn was talking, but rebounded shortly thereafter.
Don't Miss: Did Carl Icahn Load Up on Herbalife After the Breat CNBC Battle?