Earnings Breakdown: Did Apple Make the Cut?
Apple (NASDAQ:AAPL) reported fiscal second-quarter earnings today after the bell. Shares were halted at $406 about ten minutes ahead of the release after some volatility in post-market trading.
Shares are down 2.14 percent this morning in pre-market trading. Here's what's happened on the conference call:
5:57 p.m.: Can you talk about Macs?
Cook: "The reason we were down is that the market for PCs is incredibly weak. At the same time, we sold almost 20 million iPads, it's certainly true the iPads cannibalize Macs. I don't think it's a huge number, but it's some. I don't think this market is a dead market or a bad market by any means, and we're going to keep innovating. We're going to continue making the best personal computers, our strategy is not changing, and we feel really good about it."
Cook is asked about possible new product categories. "One of our areas for growth are potential new categories." Gives no specific time frame.
5:52 p.m.: Q: What do you think of the five-inch phone market?
Cook: "My view is that the iPhone 5 has the absolute best display in the industry. Some customers value large screen size, others value other factors." Cook suggests that competitors have made unhealthy tradeoffs in favor of a larger screen size.
5:50 p.m.: Q: Can you comment on gross margins beyond the next quarter?
"We are willing to trade off short-term profits where we see long-term potential. The iPad mini is aggressive, and its margins are currently low. However, we believe deeply in the long-term potential of the tablet market." This basically means that while the margins may be low right now, they can lead to more substantial gains down the road, according to Apple.
5:37 p.m.: "We feel like we have the best products by far… in both hardware, software, and services. We have the best ecosystem by far… I feel very good about our competitive position."
5:35 p.m.: Line is open for questions.
Q: What's the biggest factor that is limiting growth-margin recovering?
A: 37.5 was at the low-end of guidance. Factors: Selling more iPads than planned, as well as getting iPad mini into the channel; unfavorable adjustments. Two factors for third-quarter gross margin: Loss of margin on lower revenue, and a different product mix. Both headwinds will be partially offset by better costs.
5:30 p.m.: Time for a review of the outlook:
Apple is providing the following guidance for its fiscal 2013 third quarter:
revenue between $33.5 billion and $35.5 billion
gross margin between 36 percent and 37 percent
operating expenses between $3.85 billion and $3.95 billion
other income/(expense) of $300 million
tax rate of 26%
Here's an overview of the results:
| | | | | | | | |
| --- | --- | --- | --- | --- | --- | --- | --- |
| | Mar. 31, 2012 | Jun. 30, 2012 | Sep. 30, 2012 | Dec. 31, 2012 | Mar. 31, 2013 (estimate) | Mar. 31, 2013 (actual) | Jun. 30, 2012 (guidance) |
| Revenue ($) in millions | 39,032 | 34,960 | 35,833 | 54,521 | 42,680 |  43,600 |  33,500 to 35,500 |
| Diluted EPS ($) | 12.30 | 9.32 | 8.67 | 13.81 | 10.13 |  10.09 | 9.08** |
| Gross Margin (%) | 47.4 | 42.8 | 40.0 | 38.6 | 37.5 to 38.5* |  37.5 |  36 to 37 |
*Apple guidance, **Mean Analyst Estimate
What Is Apple Doing With Its Cash?
Apple announced that it would more than double its capital return program to shareholders by the end of 2015. The company now expects to use $100 billion in cash, a $55 billion increase over the previously-announced program. Fun fact: The new buyback program is more than twice the entire value of Yahoo (NASDAQ:YHOO).
In addition to this, the company approved a 15 percent increase in the quarterly dividend and today declared a dividend of $3.05 per common share.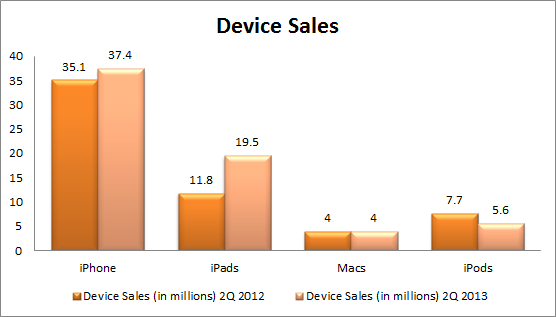 Apple's international sales as a share of revenue increased significantly in the quarter.
| | | | | | |
| --- | --- | --- | --- | --- | --- |
|   | Mar. 31, 2012 | Jun. 30, 2012 | Sep. 30, 2012 | Dec. 31, 2012 | Mar. 31, 2013 |
| International Sales as a Share of Revenue (%) | 64 | 62 | 60 | 61 | 66 |
"Our cash generation remains very strong, with $12.5 billion in cash flow from operations during the quarter and an ending cash balance of $145 billion," said Peter Oppenheimer, Apple's CFO.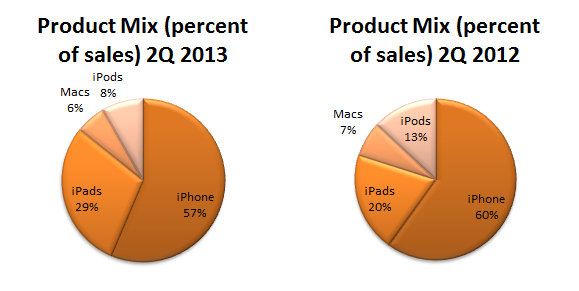 Don't Miss: Apple Earnings: Here Are Five Things To Watch For.
More from the conference call:
5:45 p.m.: Analyst expresses concern that Apple is unable to grow as fast as the broader smartphone/tablet market is.
The point is not lost on Apple's executive team. Cook says that market share and unit volume are important, but there are other metrics as well: customer satisfaction and usage are mentioned. This leads back into what looks like a new emphasis on the company's ecosystem.
5:40 p.m.: Asked about upcoming product launches, and whether or not there will be something new before fall. No specific answer.
Q: What's your confidence level in the supply chain?
A: "I have incredible confidence." Remember, Apple pretty much has to invent the manufacturing process for the products it makes.
Apple is happy with cutting costs so far, even though margins are expected to shrink in the next quarter. Changing product mix is expected to negatively impact margins.
5:37 p.m.: Q: How do you feel about the pace of your buyback program?
A: Apple will begin buying shares this month, and will conclude by the end of calendar year 2015 (32 months).
5:25 p.m.: Apple highlights the fact that app developers have made more than $9 billion so far through the App Store.
Average revenue per store was $13.1 million in the most-recent quarter.
Apple highlights its new capital return program (see next page for details). Company confirms that it will access the debt markets for this in order to avoid repatriation taxes. Apple will begin buying shares through the recent authorization this month, at a rate of about $1 billion annually. Company has resolved to revisit the dividend issue annually.
5:15 p.m.: "A recent study by Kantar measured a 95 percent loyalty rate among customers, which is unprecedented. Apple highlights its success in Japan, where it retained the number-one smartphone spot all year."
"Cook confirms that the company will access the debt market in order to finance capital returns to shareholders."
5:05 p.m.: "The decline in Apple's share price over the past few quarters has been very frustrating to all of us."
Cook mentions that Apple teams are working on new software and hardware. He emphasizes his confidence in the company's ability to deliver innovative products (both software and hardware) in the future. Sounds like he is specifically addressing investor concern over the company's culture of innovation.