Lloyds Implements Headcount Reductions and 3 Morning Hot Stocks Seeing Action
Warner Bros. (NYSE:TWX): Current Price $50.44
Gameranx says Warner Bros. (NYSE:TWX), Electronic Arts (NASDAQ:EA), SEGA, Ubisoft and a few other companies are likely to bid at the piecemeal asset sales of the bankrupt THQ (NASDAQ:THQI). According to unconfirmed rumors, SEGA has its eye on Relic Entertainment, which developed Company of Heroes and THQ's Warhammer 40K games.

WellPoint (NYSE:WLP): Current Price $63.70
WellPoint (NYSE:WLP) reported fourth quarter EPS of $1.03 and revenue of $15.54 billion, beating by $0.08 and $0.31 billion, respectively. The benefit expense ratio was 87.3% during the quarter, a decrease of 30 basis points from the year ago quarter. As at December 31, 2012, the company had 36.1 million medical enrolment members. "Our fourth quarter results were stronger than originally expected, reflecting improved operating performance, solid expense management and improving execution in our core operations," said John Cannon, interim President and Chief Executive Officer. "Our fourth quarter results reflected lower than anticipated commercial medical costs and stability in our membership base. Our results were supported by the strength of our operating cash flow and year-end balance sheet metrics," said Wayne DeVeydt, Executive Vice President and Chief Financial Officer.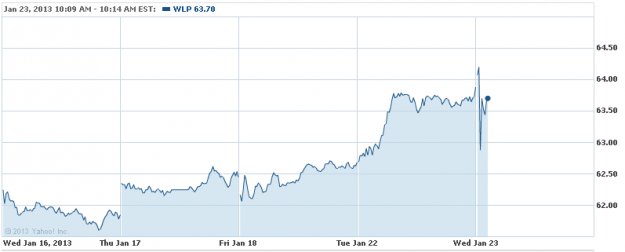 Are these stocks a buy or sell? Let us help you decide. Check out our Stock Picker Newsletter now.
Lloyds Banking Group (NYSE:LYG): Current Price $3.31
Lloyds Banking Group (NYSE:LYG) announced it was cutting 940 jobs across its operations, insurance, retail, wealth, international and commercial divisions as it moves to implement headcount reductions conceived in a previous strategic review. In June 2011, the bank had announced plans to cut 15,000 staff positions, thereby saving £1.5 billion.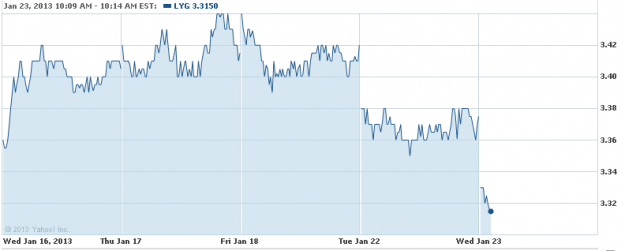 Barclays (NYSE:BCS): Current Price $18.86
Barclays (NYSE:BCS) plans to reduce employee strength at its investment banking operations from 23,000 to about 21,000 following a strategic overhaul likely to be made public by CEO Anthony Jenkins in February. Jenkins has been critically examining the bank's different business sectors since he was appointed chief executive in the aftermath of the Libor rate fixing scandal.

Don't Miss: Google's Acquisition of Motorola Mobility: A Mistake?