Lockheed Martin Earnings: Outlook Improves
S&P 500 (NYSE:SPY) component Lockheed Martin (NYSE:LMT) reported its results for the first quarter. Lockheed Martin Corporation is a global security company that develops and manufactures advanced technology systems and products.
Don't Miss: Wall St. Cheat Sheet's newest Feature Trades of the Month!
Lockheed Martin Earnings Cheat Sheet for the First Quarter
Results: Net income for Lockheed Martin rose to $548 million ($1.55/share) vs. $519 million ($1.38/share) in the same quarter a year earlier. A rise of 5.6% from the year earlier quarter.
Revenue: Rose 2.9% to $10.63 billion.
Actual vs. Wall St. Expectations: LMT beat the mean analyst estimate of $1.51/share. Estimates ranged from $1.47 per share to $1.57 per share.
Quoting Management: "We had a solid operating and financial start to 2011," said Bob Stevens, Chairman and CEO. "We focused on executing on our programs while continuing to find affordable solutions, because we and our customers need to make every dollar count. In this new reality shaped by an increasingly complex global security environment and an uncertain economy, we remain committed to providing value to our customers while achieving strong financial results for our shareholders."
Competitors to Watch: Astrotech Corp. (NASDAQ:ASTC), The Boeing Company (NYSE:BA), Northrop Grumman Corp. (NYSE:NOC), General Dynamics Corp. (NYSE:GD), OHB Technology AG (OHB), Alliant Techsystems Inc. (NYSE:ATK), Raytheon Company (NYSE:RTN), RKK Energiya im. S.P.Koroleva OAO (RKKE), Kirovskiy zavod Mayak OAO (P) (KZMK), and Duks OAO (DUKS).
Today's Performance: Shares of LMT are trading at $78.89 as of April 26, 2011 at 12:45 PM ET, up 1.87% from the previous close.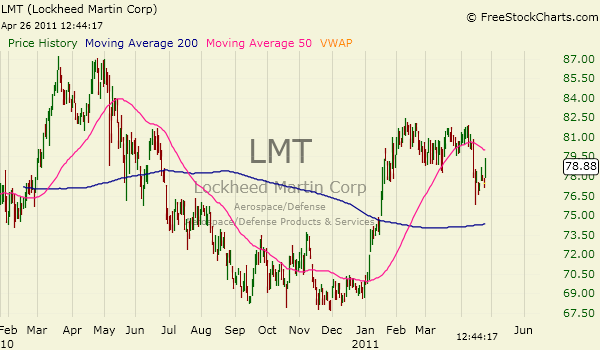 Don't Miss Wall St. Cheat Sheet's newest Feature Trades of the Month!