Look at the Percentage of ETF Inflows That Just Went into Energy
An astounding statistic on CNBC today about how heavy the flows in February are into 1 fund.  This also showcases why so many stocks, especially of the large cap kind within a sector, move together.  The hot money in the hedge fund world all piled into Energy Select SPDR (NYSE:XLE) in February, with nearly 1 of every 4 dollars headed this way.
Net inflows into exchange-traded funds in February were $7.51 billion .  XLE (NYSE:XLE) was the inflows leader with almost $1.6 billion in new investments.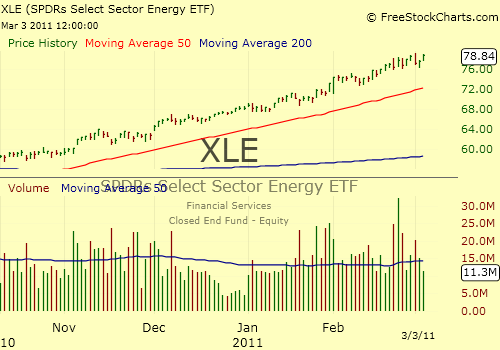 TOP HOLDINGS
Company name
% Net assets
ExxonMobil Corporation (NYSE:XOM)
17.81%
Chevron Corporation (NYSE:CVX)
12.66%
Schlumberger, Ltd. (NYSE:SLB)
8.22%
ConocoPhillips (NYSE:COP)
5.03%
Occidental Petroleum Corporation
(NYSE:OXY)  4.45%
Apache Corporation (NYSE:APA)
3.41%
Halliburton Company (NYSE:HAL)
3.18%
Anadarko Petroleum Corp. (NYSE:APC)
2.89%
Devon Energy Corporation (NYSE:DVN)
2.87%
National Oilwell Varco, Inc. (NYSE:NOV)
2.55%
Percentage of holdings 63.07%
You can see Exxon's (NYSE:XOM) chart is not very much different from the ETF – quite amazing when an ETF can affect the country's largest stock.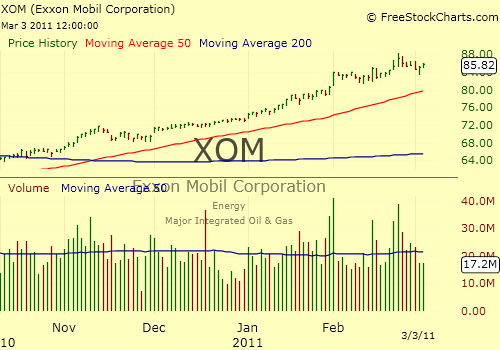 No positions
This is a guest post written by Trader Mark who runs the blog Fund My Mutual Fund.