Louisiana-Pacific Corporation Earnings: Loss Grows Wider
Louisiana-Pacific Corporation (NASDAQ:LPX) reported its results for the first quarter. Louisiana-Pacific Corp. is engaged in the manufacture of building products. It operates in three segments: Oriented Strand Board, Siding and Engineered Wood Products.
Don't Miss: Wall St. Cheat Sheet's newest Feature Trades of the Month!
Louisiana-Pacific Earnings Cheat Sheet for the First Quarter
Results: Loss widened to $23 million (18 cents/diluted share) from $22.5 million (loss of 18 cents/share) in the same quarter a year earlier.
Revenue: Rose 11.8% to $331.7 million YoY.
Actual vs. Wall St. Expectations: LPX fell short of the mean analyst estimate of a loss of 11 cents/share. Estimates ranged from a loss of 8 cents per share to a loss of 14 cents per share.
Quoting Management: "At the beginning of the year, we felt some optimism in the market but it waned as we finished the quarter," said Chief Executive Officer Rick Frost. "LP took advantage of what the market did offer and our operations were able to generate positive adjusted EBITDA of $10 million despite lower housing starts."
Key Stats:
Last quarter marked the fifth consecutive quarter of gross margins expanding as the company's gross margin expanded 1.4 percentage points to 11.1% from the year earlier quarter. Over that span, margins have grown on average 8.2 percentage points per quarter on a year-over-year basis.
Over the last five quarters, revenue has increased 28.9% on average year over year. The biggest increase came in the second quarter of the last fiscal year, when revenue rose 68% from the year earlier quarter.
Competitors to Watch: Universal Forest Products, Inc. (NASDAQ:UFPI), Weyerhaeuser Company (NYSE:WY), Masisa S.A. (MYSZY), Masonite (Africa) Limited (NYSE:MAS), and Pfleiderer Grajewo SA (GRJ)
Stock Performance: Shares of LPX are down 0.79% from the previous close.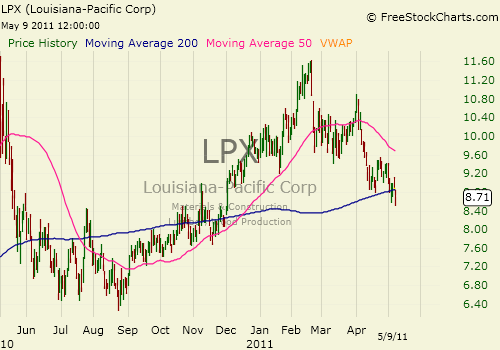 Don't Miss Wall St. Cheat Sheet's newest Feature Trades of the Month!