Lower Interest Rates Fail to Lift Mortgage Market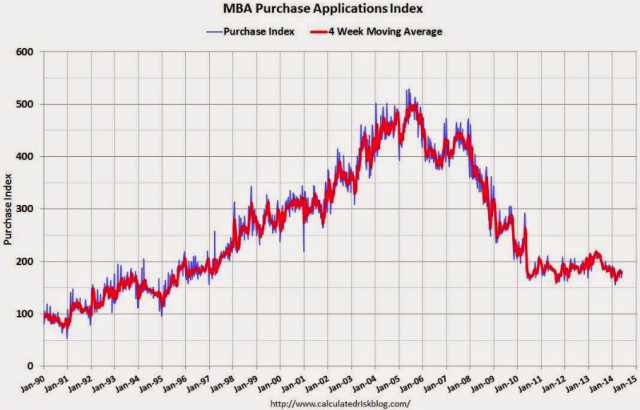 Even though interest rates fell to their lowest level in almost a year, the mortgage market continues to lose momentum. In the latest update from the Mortgage Bankers Association, for the week ended May 23, applications for home loans dropped 3.1 percent on a seasonally adjusted basis from one week earlier. On an unadjusted basis, the index plunged 14 percent.
The Refinance Index, which posted a 1 percent declined in the previous week, fell another 3 percent in the latest report. The seasonally adjusted Purchase Index also decreased 4 percent. The unadjusted Purchase Index posted the biggest move by plummeting 15 percent in only a week and was 17 percent below the same week one year earlier. As the chart above shows, applications have struggled to gain momentum for a sustained period since the housing bubble collapsed.
Overall, the refinance share of mortgage activity accounted for 53 percent of total applications, up 1 percentage point from a week earlier. It has been a rare occurrence to see the refinance share of mortgage activity gain ground. Refinancing has dropped for 12 of the past 17 weeks.
Interest rates declined across the board once again. The average rate for a 30-year fixed-rate mortgage dipped from 4.31 percent to 4.26 percent, the lowest rate since mid-2013. Meanwhile, the average rate for a 15-year fixed-rate mortgage declined to 3.39 percent from 3.42 percent.
Although interest rates have been trending lower, housing affordability issues remain as home prices continue to climb higher. In April, home prices jumped 10.5 percent from a year earlier, according to the latest report from CoreLogic. That is the 26th consecutive month of year-over-year price gains. On a month-over-month basis, home prices increased by 2.1 percent in April compared to March.
More From Wall St. Cheat Sheet:
Follow Eric on Twitter @Mr_Eric_WSCS