Lululemon to Launch Men's Stores in 3 Years and 2 More Heavily Traded Stocks to Follow
Lululemon Athletica (NASDAQ:LULU): Current price $66.84
Chief Executive Christine Day said Thursday that her company will be opening standalone men's stores by 2016. While Day did say that Lululemon's current menswear has sold well, brands connected with women have had trouble interesting men in the past. When Deckers Outdoor Corporation's Uggs brand recruited the New England Patriots quarterback Tom Brady to assure males that wearing the furry boots was okay, the results were hardly spectacular. Day's comments followed an announcement earlier this week that she will step down from the company once the board finds a successor.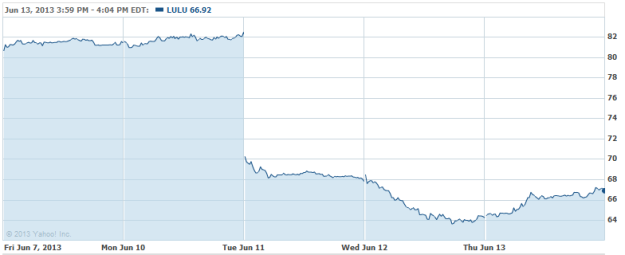 News Corp. (NASDAQ:NWSA): Current price $31.68
On Thursday it was announced that the News Corp. Chief Executive Rupert Murdoch has filed for divorce from his wife Wendi Deng Murdoch, blaming a breakdown in the relationship. However, the split will not change the succession plan for the media giant, which the 82-year-old founder controls through a family trust. Murdoch filed a one-page document Thursday saying that he was commencing a divorce case in New York State Supreme Court in Manhattan.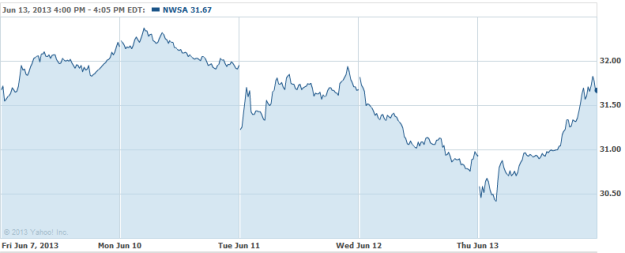 Myriad Genetics (NASDAQ:MYGN): Current price $32.01
Shares of the diagnostic test maker spiked Thursday following the United States Supreme Court giving Myriad a victory in a struggle over the validity of Myriad patents supporting its profitable test for genes connected with high risk of breast and ovarian cancer. Beyond that, the decision will probably ultimately benefit its competitors, together with doctors and patents who need to determine the optimal course of treatment. Myriad sells a well-selling test for the BRCA 1 and BRCA 2 genes linked to hereditary risk of breast and ovarian cancer, which is presently the sole test available due to its patents, and was challenged by a scientists group, leading to the Court's review, even though the United States Patent and Trademark Office has been bestowing patents on human genes for nearly 30 years. But today, the high court ruled that genes naturally found in the body cannot be patented, and that synthetically created genetic material, named complementary or cDNA, can be.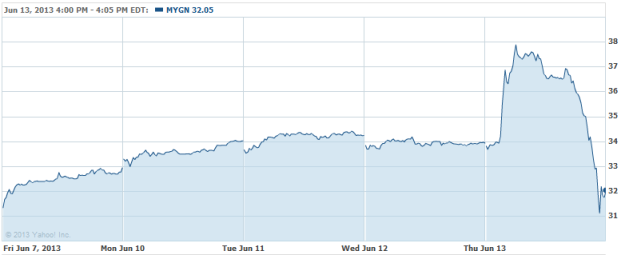 Don't Miss: Is Business Optimism Flagging Thanks to Weaker Sales?