LyondellBasell Industries Earnings: Another Blow Out Quarter
LyondellBasell Industries N.V. (NASDAQ:LYB) reported its results for the first quarter. Lyondellbasell Industries NV is an independent chemical company. It is a producer of polypropylene and polypropylene compounds (PP compounds) and a producer of propylene oxide (PO), polyethylene (PE), ethylene and propylene.
Don't Miss: Wall St. Cheat Sheet's newest Feature Trades of the Month!
LyondellBasell Industries Earnings Cheat Sheet for the First Quarter
Results: Net income for the company was $660 million ($1.15/share), up from $10 million a year earlier.
Revenue: Rose 26 percent to $12.3 billion
Quoting Management: "During the first quarter, we again demonstrated the earnings potential of our company as margins increased in nearly all businesses compared to the fourth quarter 2010 despite significant raw material pricing pressures," said LyondellBasell Chief Executive Officer Jim Gallogly. "Our EBITDA of $1.4 billion reflects solid operations, an improved cost structure and improving markets, particularly in the U.S.," Gallogly continued.
Actual vs. Wall Street Expectations: The company topped estimates of 74 cents per share.
Key Stats:
From the fourth quarter of the last fiscal year, the company's current liabilities rose to $10.76 billion from $4.76 billion.
Competitors to Watch: TPC Group, Inc. (NASDAQ:TPCG), BASF SE (BASFY), Braskem SA (NYSE:BAK), Sasol Limited (NYSE:SSL), Westlake Chemical Corp. (NYSE:WLK), W.R. Grace & Co. (NYSE:GRA), The Dow Chemical Company (NYSE:DOW), Repsol YPF, S.A. (REPYY), and Sinopec Shanghai Petrochemical Co. (NYSE:SHI)
Today's Performance: Shares of LYB are up 5.6% from the previous close.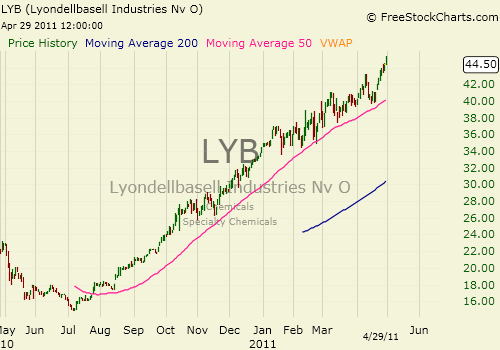 Don't Miss Wall St. Cheat Sheet's newest Feature Trades of the Month!