"Made In America" Is Making a Comeback With an Unlikely Ally
When people talk about the "decline of U.S. manufacturing" over the past 10 years or so, they are not talking about some ephemeral or nebulous evaporation of demand or an unquantifiable off-shoring of jobs. Generally, they are not even talking about a dramatic decline in the relative amount of value added by manufacturing to overall gross domestic product, because since 2005 that share has only fallen from 13 percent to 12.4 percent. This is significant, but not staggering.
By comparison, the contribution from the finance and insurance industry fell by a full percentage point, from 7.6 to 6.6 percent, over the same period, and the contribution from construction fell 1.4 percentage points from 5.0 to 3.6 percent. Overall manufacturing output has also been fairly resilient and has generally followed the ebb and flow of the economy at large, not the downward death spiral that doomsday propagandists describe. Our factories are producing as much value now as they were before the financial crisis and more value than in 2000, when real output peaked before a contraction that coincided with the bursting of the dot-com bubble.
When people describe the decline of U.S. manufacturing, most often they are referring directly to the dramatic decline in overall manufacturing employment over the past decade. In 2003, manufacturing employed about 14.5 people in the U.S. — come 2013, that number fell to 12.0 million. At its most-recent peak in the late 1990s (manufacturing employment has been in decline for a long time), the industry employed 17.5 million people. At its most-recent low in 2010, the post-crisis pit, the industry employed just 11.5 million people.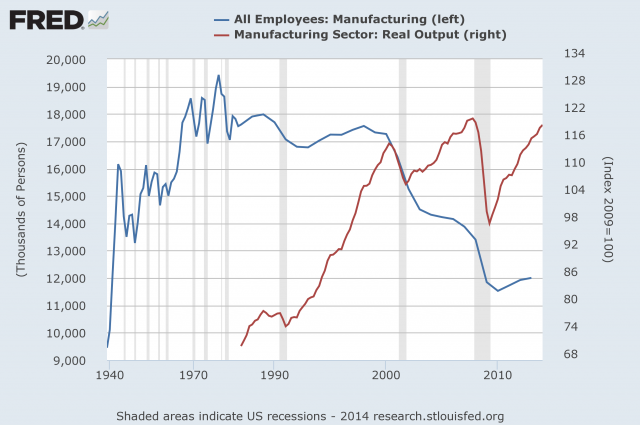 Part of the reason for such a dramatic decline in manufacturing employment has been productivity gains. As the graph shows, even as overall employment tanked, output not only remained strong, it grew. As employment stabilized and began to grow itself in the wake of the financial crisis, the manufacturing industry at large began experiencing a robust recovery.
The data supporting this idea has been pouring down like rain over the past few months. Take the manufacturing purchasing managers' index maintained by Markit, an industry research firm. Markit's headline manufacturing PMI increased from 56.4 in May to 57.3 in June, marking an acceleration in overall manufacturing business activity (a PMI reading above 50 indicates growth.) Moreover, the components for output, new orders, and employment all also expanded at a faster rate.
"Business was booming at U.S. goods producers in June," Markit Chief Economist Chris William put it in the PMI report. "Manufacturing may account for only 13 percent of U.S. GDP, but the sheer pace at which the sector is growing means it will have provided a major boost to the economy in the second-quarter."
But this recovery didn't come out of nowhere. A macro trend is simply the sum of its parts (or greater than, depending on how you look at it) and the growth we are seeing in business activity is the product of millions of individual decisions made by companies from every corner of the economy.
One of those companies, believe it or not, is Wal-Mart (NYSE:WMT). We've been quick to give the big-box retailer a hard time in the past and those criticisms stand, but the company is too old and successful at this point to be nothing but bad. Recognizing a growing trend among American consumers to buy local (at least, to buy domestic) as well as the various positive externalities that a domestic supply chain provides, Wal-Mart has committed a meaningful amount of energy to supporting U.S manufacturing.
The program made headlines in 2013 when Wal-Mart announced that it would be adding $50 billion to its budget for U.S. products over the next 10 years. This commitment is an explicit "effort to grow U.S. manufacturing and encourage the creation of U.S. jobs." Wal-Mart is even holding a summit in August to bring manufacturers from around the company together and, ostensibly, promote new ways to invest in American jobs.
This commitment has even spilled into the customer-facing side of the business. On the Wal-Mart website, you can filter for items made in the U.S., and the company has issued some dressed up PR to celebrate Independence Day.
More From Wall St. Cheat Sheet: