Madoff Still Hurting Investors From Behind Bars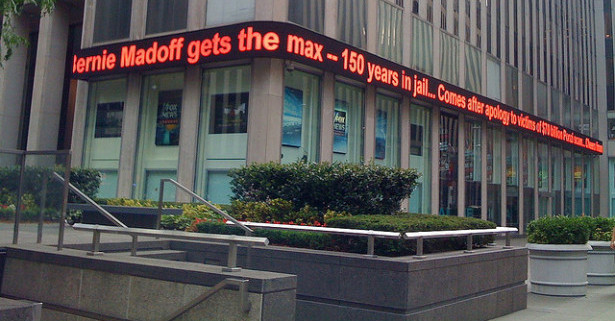 Lucky for big banks, including JPMorgan Chase (NYSE:JPM) and HSBC (NYSE:HBC), they cannot be sued by the man responsible for liquidating the Bernard Madoff firm.
Irving Picard, the bankruptcy trustee in the Bernie Madoff case, appealed rulings barring him from demanding damages from the banks that allegedly overlooked Madoff's fraud for the sake of fees. However, Manhattan Federal district judges Colleen McMahon and Jed Rakoff said that Picard could not accuse the banks of fraud because he is the trustee of a fraudulent enterprise, citing the legal principle pari delicto.
The U.S. Court of Appeals in New York supported that decision Thursday, saying that Picard's "scattershot responses" had "missed the mark," reported Bloomberg. "Picard stands in the shoes of [Bernard L. Madoff Investment Securities] and may not assert claims against third parties for participating in a fraud that BLMIS orchestrated," read the ruling seen by by the publication. In other words, Picard himself has been tainted by the con man's fraud.
He had been looking to reclaim $30 billion from the accused banks.
Madoff masterminded the largest Ponzi scheme in U.S. history, and his fraud cost investors an estimated $17 billion in principal. But now, after Picard's defeat, Madoff's customers will have a smaller pool from which to recoup their remaining losses.
"It's certainly not a positive that the trustee lost against the big banks," CRT Capital Group managing director Joseph Sarachek told Bloomberg. For Madoff's investors to recover all the money they lost, Sarachek estimates, Picard must collect billions of dollars, "and who but the big banks have that?" Comparatively, JPMorgan spokeswoman Jennifer Zuccarelli told the publication via email that the judge's ruling was "well reasoned." The decision "affirms our view that the trustee's common-law claims lacked merit," she wrote.
Still, Picard has approximately $4 billion worth of other claims against the banks that he is "vigorously" pursuing, his spokeswoman Amanda Remus said in an email to Bloomberg. He could ask for a second hearing by the appeals court or take the case to the United States Supreme Court, though Bingham Greenebaum Doll bankruptcy lawyer Chip Bowles told the publication that his odds of winning are low. However, "for this much money, I think he will try," Bowles said.
Earlier appeals court decisions have met similar ends; a court in Richmond, Virginia decided in May that a bank allegedly holding money involved in a Ponzi scheme cannot be sued, and a Chicago court ruled in April 2012 that a trustee could not sue accountants for not detecting a Ponzi scheme. Acknowledging that precedent, the New York appeal judges said that they would leave it to Congress to change the law if legislators decide that trustees should be able to bring such lawsuits.
So far, Picard has paid investors almost $4.8 billion from the Madoff estate's customer fund, out of approximately $17 billion of estimated lost principal, according to his website. In addition, through settling earlier lawsuits against individuals who allegedly were aware of the fraud, he stockpiled about $9.3 billion to compensate approved customers of the jailed con man. The Securities Investor Protection Corp. has also paid customers about $705 million.
Some bankruptcy experts have faulted the legal ruling that prevented him from successfully arguing that banks overlooked Madoff's fraud. "It does seem to ignore the extent to which a trustee is not just a representative of the old enterprise, but also a representative of all the creditors," Seton Hall University law professor Stephen Lubben told Bloomberg.
Seventy-five-year-old Madoff is currently in the midst of serving a 150-year sentence in a federal prison in North Carolina. His Ponzi scheme collapsed in 2008 when he could no longer find new investors to provide money to fund the withdrawals.
Don't Miss: Are Americans Finally Masters of Their Credit Card Debt?
Follow Meghan on Twitter @MFoley_WSCS