Magma Design Automation, Inc. Earnings: Margins Keep Growing
Magma Design Automation, Inc. (NASDAQ:LAVA) swung to a profit in the fourth quarter, but still came up short of analyst expectations. The Company provides design and implementation, analysis and verification software that enables chip designers to reduce the time it takes to design and produce complex integrated circuits.
Don't Miss: Wall St. Cheat Sheet's newest Feature Trades of the Month!
Magma Design Automation Earnings Cheat Sheet for the Fourth Quarter
Results: Swung to a profit of $1.7 million (2 cents/diluted share) in the quarter. Magma Design Automation, Inc. had a net loss of $728,000 or a loss 2 cents per share in the year earlier quarter.
Revenue: Rose 13.2% to $38 million YoY.
Actual vs. Wall St. Expectations: LAVA fell short of the mean analyst estimate of 8 cents/share. Estimates ranged from 7 cents per share to 8 cents per share. It beat the average revenue estimate of $35.7 million.
Quoting Management: "The fourth quarter continued a string of solid financial performance and capped off a great fiscal 2011, as for the ninth consecutive quarter we met or exceeded all guidance targets and generated cash," said Rajeev Madhavan, Magma chairman and chief executive officer.
Key Stats:
The company's cost of sales fell 11.2% from a year earlier to $4.7 million. Last quarter, cost of sales was 12.4% or revenue versus 15.9% a year earlier.
Revenue has risen the past four quarters. Revenue increased 12.3% to $34.8 million in third quarter. The figure rose 14.4% in second quarter from the year earlier and climbed 12.9% in first quarter from the year-ago quarter.
The company has now fallen short of estimates in the last two quarters. In third quarter, it missed expectations by 4 cents with net income of 3 cents versus a mean estimate of net income of 7 cents per share.
Competitors to Watch: Synopsys, Inc. (NASDAQ:SNPS), Mentor Graphics Corp. (NASDAQ:MENT), Cadence Design Systems, Inc. (NASDAQ:CDNS), PDF Solutions, Inc. (NASDAQ:PDFS), ANSYS, Inc. (NASDAQ:ANSS), Tessera Technologies, Inc. (NASDAQ:TSRA), Parametric Technology (NASDAQ:PMTC), Autodesk, Inc. (NASDAQ:ADSK), Cimatron Ltd. (NASDAQ:CIMT), and National Instruments Corp (NASDAQ:NATI).
Stock Performance: Shares of LAVA are up 2.4% from the previous close.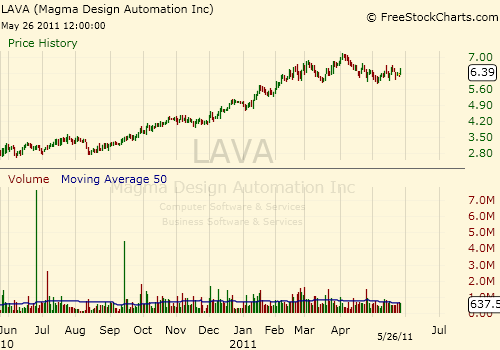 Don't Miss Wall St. Cheat Sheet's newest Feature Trades of the Month!
(Sources: YahooFinance, Xignite Financials)