Magnum Hunter Sacks its Auditor and 2 More Heavily Traded Stocks
Magnum Hunter Resources Corp. (NYSE:MHR): Closing price $
Shares have fallen the sharpest in over two years, after Magnum Hunter sacked its auditing firm,PricewaterhouseCoopers, subsequent tothe accountants finding information that may have a material impact on the fairness or reliability of the companys consolidated financial statements, according to a Tuesday filing with the U.S. Securities and Exchange Commission. In late afternoon trading in New York, sharesfell by 16 percent to $2.79, and prior to that it plunged 27 percent, the most intraday since May 6, 2010.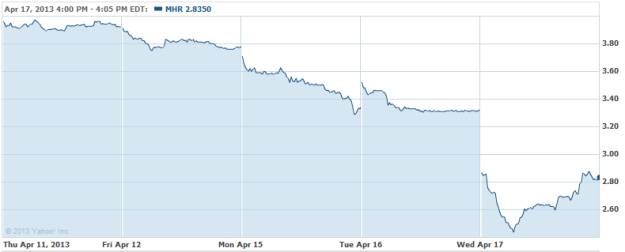 Sprint Nextel Corporation (NYSE:S): Current price $
The American Civil Liberties Union has requested that the Federal Trade Commission to look into what it claims is a failure by domestic wireless carriers to properly update the Google-built operating system employed on Android phones. The Union says that sluggish fixes have been sandbagging a number of smartphone users with antiquated software, and is thus dangerous. For its part, in emailed statements, Sprint responded that it followed "industry-standard best practices" so as to protect its customers.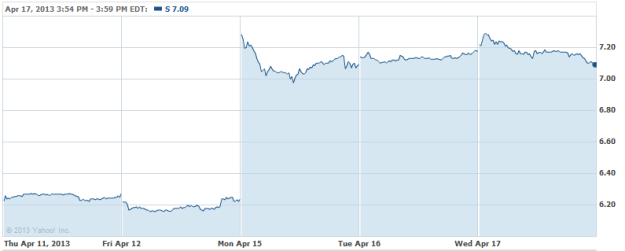 BlackBerry (NASDAQ:BBRY): Closing price $
According to The Motley Fool, the online ad network Chitikaexamined the impact that the new Z10 has had on Blackberry usage in North America since its debut. It appears that as of April 11th, the Z10s share of overall Blackberry usage was 5.3 percent, which compared toApples(NASDAQ:AAPL) iPhone 5 share of overall iPhone traffic of 12.1 percent after the same amount of time had passedsince its launch. Iain Butler at The Motley Fool explained that "given the gap that Chitika found to exist between the new BlackBerry and the iPhone 5, its reasonable to say Blackberrys device has not been a blockbuster success thus far. But, it hasnt beena total flop either. Steady uptake hasbeen demonstrated and since being released in the U.S., the usage growth ratehas accelerated."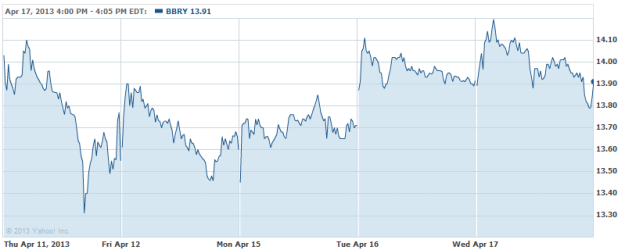 Don't Miss: How Bleak is the U.K.s Economic Future.