Manufacturing Outlook Worsens On Weak Employment
A series of purchasing manufacturers' index reports released last week showed that manufacturing activity in the U.S. remains mixed at best. To kick things off, Markit's Flash Manufacturing PMI for the U.S. registered 51.9 for May, its lowest reading since October, and the second consecutive month of slowing growth.
The purchasing managers index is a gauge of the economic health of the manufacturing sector. Broken down into five components — new orders, inventory levels, production, supplier deliveries, and employment — the flash Markit PMI index gives investors an advanced reading of what actual conditions are like in the private sector. This information will help inform the economic backdrop against which investors have to make decisions.
"With the PMI hitting a seven-month low, the U.S. manufacturing economy continues to show signs of weakening. Growth has slowed sharply in recent months, down from an annualized pace of 4.9 percent in the first quarter to just 1 percent in May," commented Markit Chief Economist Chris Williamson. "The goods-producing sector is therefore likely to have provided only a modest boost to the U.S. economy in the second quarter, providing further worrying signs that growth remains lackluster."
New reports from the Federal Reserve Banks of Richmond and Dallas confirm nebulous and fundamentally weak manufacturing conditions. The institutions reported that manufacturing business activity in their regions remained either in contraction, or registered a negative reading on the index.
The Texas manufacturing production index for May increased from -0.5 to 11.2 and new orders increased from -4.9 to 6.2. Shipments increased from -0.4 to 3.1, while the capacity utilization index increased from 2.7 to 6.4.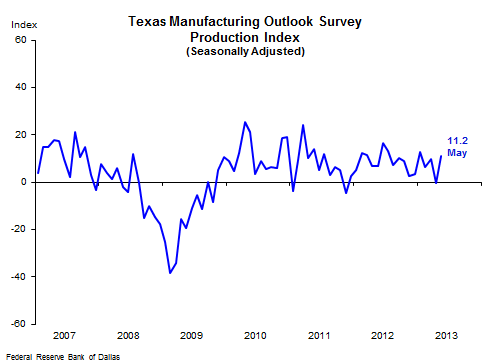 However, respondents indicated that overall business conditions continued to worsen. For May, the general business activity increased 5 points but remained negative at -10.5. The company outlook index declined from -2.2 to -6.8, its lowest level since July 2010. Labor market indicators also reflected weak demand, with the index falling to -6.3, its first negative reading of the year.
In Richmond, manufacturing activity continued to contract but at a slower rate than in April. The seasonally adjusted composite index of manufacturing activity — the broadest indicator that the Richmond Fed uses — increased four points but still remained negative at -2. New orders fell two points to -10, and the jobs index fell six points to -3.
Don't Miss: Will These 5 Bright Spots Help the Economy?