Manufacturing's Next Chapter: This Isn't Your Parents' Economy
U.S. manufacturing has mounted a fairly incredible recovery over the past few years. After plunging to 10-year lows in the wake of the financial crisis, for example, the value of new orders for nondefense ex-aircraft capital spending increased to a near-record high of $70.7 billion in May. Moreover, the Institute for Supply Management's composite manufacturing PMI shows growth for nearly every month since August 2009.
But even as this recovery takes place and overall post-tax corporate profits surge to record highs, manufacturers aren't exactly rolling in the dough. According to an annual report published by IndustryWeek, total revenues for the top 500 manufacturing companies in the U.S. fell 1 percent to $6.07 trillion in 2013 on an annual basis.
"Turnarounds are always possible, and we're seeing a manufacturing turnaround. But things never return to where they were," Rosabeth Moss Kanter who holds the Ernest L. Arbuckle Professorship at Harvard Business School, tells The Wall Street Journal.
The sector has been marred by labor problems, such as a lack of skilled workers and offshoring of key manufacturing processes, as well as regulatory issues in offshoring destinations. Although the tide does seem to be turning in the U.S. and indicators show growth, the landscape still looks very different now than it did 10 years ago.
For example, according to a PricewaterhouseCoopers report, U.S. steel-product manufacturers spent an average of 8.1 percent of revenues to ship from China to the U.S. in 2010. In 2006, this was just 3.2 percent. Part of the reason for this shift is raising labor wages in China, where hourly wages increased from 66 cents in 2004 to $2.49 in 2012, and are expected to increase to $4.42 by 2016, according to PwC. Higher wages mean higher overall costs, which companies are forced to pass on to customers if they are to remain profitable.
Higher labor costs in China have also fueled the reshoring of some manufacturing jobs back to the U.S. Combined with reduced domestic energy costs and an increase in the number of engineering doctorates awarded in the country (a proxy for available talent), overall manufacturing employment is finally on the rise as industry activity steadily increases.
The U.S. manufacturing sector has expanded very consistently over the last year in particular. Through June 2014, ISM reported 13 consecutive months of expansion in the manufacturing sector. The headline PMI is up at 57.3 in June from 56.4 in May, the highest since May 2010. This is marginally lower than estimated by the flash PMI survey conducted by research firm Markit, which clocked in at 57.5, but it is still a strong finish to a good quarter. The headline PMI averaged 56.4 in the second-quarter, the strongest quarter in four years.
Some of the sectors that have reported growth, according to the ISM survey, were furniture and related products, nonmetallic mineral products, food, beverage, and tobacco products, machinery, fabricated metal products, computer and electronic products, transportation equipment, apparel, leather and allied products, printing, petroleum, and coal products, which shows the growth has been fairly secular across industries.
There are signs of resurgence of manufacturing in the U.S. due to more favorable costs, a ballooning educated work force, and a revival of domestic demand, but more than anything else it's the application of advanced technology that is bringing the competitive edge back to the U.S. The sector, however, still has a dearth of highly skilled professionals and U.S manufacturers have been unable to capture developing markets in the way their Asian counterparts have after 2009.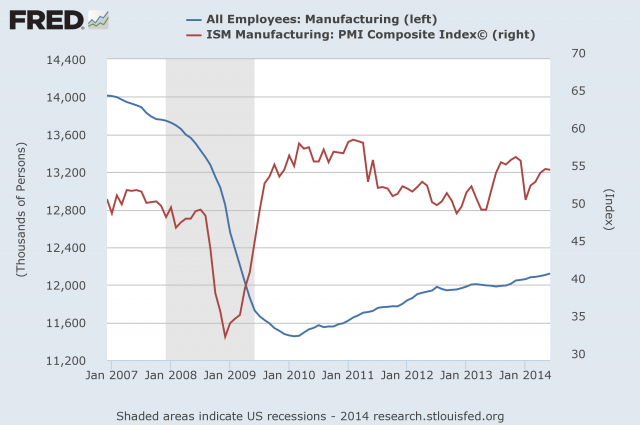 More From Wall St. Cheat Sheet: