March Against Monsanto Goes Global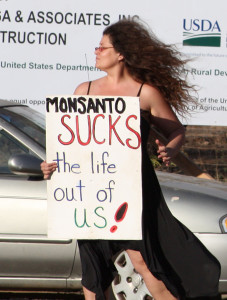 The March Against Monsanto has become a global movement. On Saturday, protesters gathered together in dozens of cities around the world to protest the seed giant Monsanto (NYSE:MON) and the genetically modified food that it produces.
According to the organizers, the "March Against Monsanto" protests took place in 436 cities in 52 different countries. In the protest in Los Angeles, the protesters had signs that said "Label GMOs, It's Our Right to Know" and "Real Food 4 Real People."
Most corn, cotton, and soybean crops that are grown in the United States are genetically modified. Genetically modified crops are ones that have been grown from seeds that are designed to resist herbicide and insecticide. The seeds are also designed to improve crop yields and have added nutritional benefits.
Critics say that genetically modified crops not only can harm the environment, but also cause serious health conditions. Genetically modified plants has been "a growing issue of contention." The movement began several months ago when the founder Tami created a Facebook page criticizing the company's actions. The response was even better than Tami would have thought. She said that "If I had gotten 3,000 people to join me, I would have considered that a success," but way more people joined the group and have attended the protests.
Canal said that "It was empowering and inspiring to see so many people, from different walks of life, put aside their differences and come together today." The groups to continue protesting until the company stops its practices.
Monsanto said it respects people's opinions, but the company's position is that they are improving agriculture by helping farmers produce more from their land. There is no FDA requirement for GMO products to be labeled, but protesters are pushing for these products to be labeled and some legislators are taking action to make that happen.
Don't Miss: AAII Sentiment Survey: Pessimism Reaches Its Lowest in One Year.