March Import and Export Prices Reflect Limited Global Demand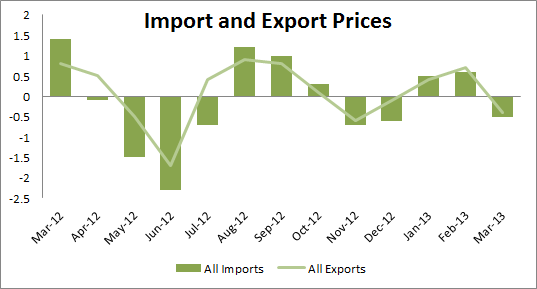 Import prices declined 0.5 percent in March, according to data released by the Bureau of Labor Statistics on Thursday morning. This is the first monthly decline since December, and contributed to a 2.7 percent year-over-year decrease in import prices for the month.
A decrease in fuel prices led the decline. The BLS index for import fuel decreased 1.9 percent, driven by a 1.9 percent drop in the price of petroleum. Year over year, the fuel index is down 9.1 percent, led by a 10.4 percent drop in petroleum prices that outweighs a 47.1 percent increase in the price of natural gas.
On the other side of the coin, export prices decreased 0.4 percent for the month. The BLS reports that lower prices in both the agricultural and non-agricultural segments contributed to the downturn. Export prices were up 0.3 percent year over year…
Drilling into some specifics, the BLS reported that import prices from China decreased 0.2 percent in March, and decreased 1.1 percent year over year. This data comes at the heels of China's official trade balance report, which showed a rare and unexpected deficit of $880 million. China's General Administration of Customs reported that exports grew 10 percent year over year, instead of the 11.6 percent anticipated by economists.
More specifically, the report showed that exports from China to the U.S. fell 6.5 percent year over year, while imports increased 30 percent. In February, the U.S. reported a $23.4 billion trade deficit with China, down from $27.8 billion in January.
About an hour after the report, the yield on the 10-year U.S. treasury note was off 0.023 points to 1.781 percent. The equity markets remained mixed and relatively flat.
Don't Miss: Did the Markets Touch Records With a Little Help From China?