Mario Draghi Hastens Calls for Banking Union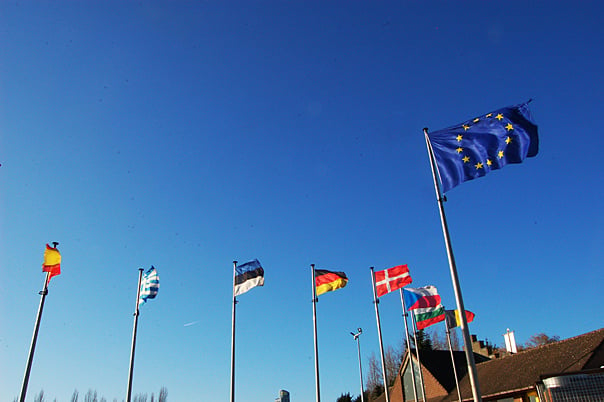 Mario Draghi, the chief of the European Central Bank, has added to calls for a banking union to be put into place in the European continent, Reuters reports. Such a union would create a zone whereby banks and other financial institutions would be governed by the same rules and judged by the same standards. It would also serve to bring many of the eurozone countries closer together, as they would be under the auspices of the same set of banks.
Draghi's comments came during a conference held in Rome today. He also called on countries to undergo fiscal consolidation, turning to their upcoming budgets if necessary, and to stick the course of structural reforms. Many reforms in labor markets are targeted toward curbing unemployment, which remains at over 12 percent in the eurozone. Draghi, too, specifically mentioned the labor market as an area ripe for reform in many nations.
In a line reminiscent of many of his earlier, dovish speeches, Draghi stated that the European Union was far from a Japanese-style scenario of facing prolonged low inflation rates. Though Draghi's forecasts through 2015 — which he debuted at the ECB's monthly meeting last week — do not have good things to say about inflation anytime soon, he maintained that the central bank would keep prices stable. Draghi also noted that the fact that price stability had been in place for so long, partially due to the ECB's actions, had opened up the gateway for many countries to implement policies at a maximum level of efficiency.
The European Central Bank is preparing to assume its supervisory role over eurozone banks, starting with a series of measures to identify the health of the region's financial institutions. Including a series of stress tests and an asset quality review, the first sets of results are due from Slovenia later this week. Data from Germany is expected to be published late this month.
Meanwhile, many European finance ministers were tackling a different question, namely, where the funds to plug holes in banks' balance sheets will come from. It is a standing issue that, were the European Central Bank's measures to uncover problems in banks, it will be difficult to force banks to raise funds past a certain point. The logical solution is to create some sort of central fund in order to finance those problems.
However, several key finance ministers have opposed such a plan on several grounds. One argument against the strategy is that it is another strain on taxpayer dollars, and that it is not a good use of money in the overall, cash-strapped picture that is European politics these days. Another argument is that it could cause funds to flow from countries ripe with taxpayers, such as Germany, to those most likely to show weaknesses in the banking sector, such as the region's less developed economies.
Don't Miss: How Bad Is America's Income Gap?