Markets Are Buzzing Before Earnings Return
The Dow Jones Industrial Average and U.S. bond market make sharp moves in holiday shortened week.
Fireworks boomed across America to celebrate the 4th of July Holiday, and there was also no shortage of fireworks in U.S. financial markets as the Dow Jones Industrial Average (NYSEARCA:DIA) and bond markets both saw volatile action. All three major U.S. stock indexes reclaimed their 50-day moving averages, which is a widely watched level for traders and indicates short term strength in the markets. The Dow also reclaimed the psychologically important 15,000 level as bullish demand returned to the major index.
Regarding the bond market (NYSEARCA:IEF), interest rates took a big jump on Friday as the recent shift in the bond market accelerates. The 10-Year Treasury (NYSEARCA:IEF) yield rose 22 basis points to 2.72 percent and the 10-Year ETF (NYSEARCA:IEF) has fallen 8 percent since early May as yields have risen 1 percent over the last two months.
On My Stock Market Radar
The chart of the S&P 500 (NYSEARCA:SPY) shows the current condition of the U.S. stock market as participants adjust to the end of the Federal Reserve's quantitative easing program, improving employment and rising interest rates. The S&P 500 is still on a point and figure "sell" signal with a bearish price objective of 1480, however, the most recent column is "Xs" which indicates that demand is now back in control of the index.
Resistance lies ahead at 1640 while support is at 1570. A break above or below these levels would confirm a new move in the respective direction for the S&P 500.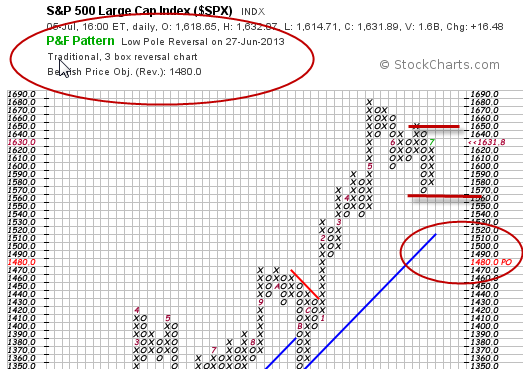 Stock Market News You Can Really Use
Even though it was a short week, significant economic news emerged, which pushed markets higher. June Markit PMI came in at 51.9, below the previous readings but still in expansion territory, while June ISM, a closely watched indicator of economic growth, climbed back to 50.9 from last month's contractionary reading of 49 percent.
May factory orders and June car sales were strong, weekly jobless claims fell and the big employment report on Friday showed employment gains of 195,000 for June, beating estimates and equaling the previous month's gains.
These numbers will be sliced and diced as most job gains came in low paying service industries and the manufacturing sector lost 6,000 jobs, however, the report was enough to send stocks higher in spite of the belief that the end of quantitative easing grows closer.
So in this "good news/bad news" world, last week's news was seen as mostly good.
This week brings economic news with consumer credit on Monday, NFIB Small Business Index Tuesday, weekly jobless claims on Thursday and consumer sentiment on Friday. Most closely watched, however, will be the release of the FOMC meeting minutes on Wednesday, along with a speech from Ben Bernanke, for clues to the future of quantitative easing. Also, this week brings the start of second quarter earnings season with Alcoa (NYSE:AA) starting things off on Monday and Wells Fargo (NYSE:WFC) and JPMorgan (NYSE:JPM) checking in on Friday.
Bottom line: Volatility continues for the Dow Jones Industrial Average and other major financial markets as investors struggle with economic news and uncertainty over the potential effects of rising interest rates and the beginning of the end for the Federal Reserve's quantitative easing programs.
John Nyaradi is the author of The ETF Investing Premium Newsletter.
Don't Miss: 7 Products That Google Killed Forever.