Markets Prepare for Big Week of Earnings
Dow Jones Industrial Average sets a new record closing high last week as earnings disappoint.
The Dow Jones Industrial Average (NYSEARCA:DIA) set a new record closing high on Thursday at 15,548.54. The S&P 500 (NYSEARCA:SPY) also set a new record high on Friday with a close of 1692.09. All of the action came in spite of a series of weaker than expected earnings and a hit to the Nasdaq (NYSEARCA:QQQ) on Friday as the markets reacted to disappointing earnings from Microsoft (NASDAQ:MSFT) which saw its stock decline 11.4 percent.
Weak earnings were also posted by Advanced Micro Devices (NYSE:AMD), which dropped 13.5 percent, and Google (NASDAQ:GOOG), which fell 3 percent from recent highs. Not to be left behind, Intel (NASDAQ:INTC) shed 9 percent last week from its recent highs. Nevertheless, for the week the Dow gained 0.5 percent, the S&P 500 gained 0.8 percent, and the Nasdaq fell 0.4 percent.
On My Stock Market Radar
In the chart of the Dow Jones Industrial Average below, we can see how the index is near overbought levels with an RSI of 65 but has been in a significant uptrend (green diagonal line) since late June. We can also see how it is stalling at current resistance levels (red horizontal line) and momentum is declining (descending red diagonal line in MACD display).
The combination of declining momentum and rising prices is referred to as a negative divergence and is oftentimes an early warning sign of a coming trend change in price.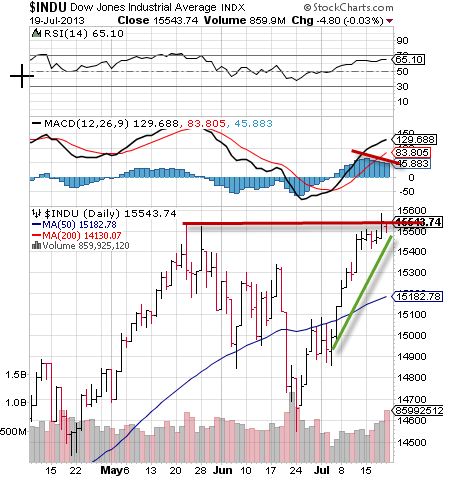 Stock Market News You Can Really Use
Next week will see more action in the tech sector as Apple (NASDAQ:AAPL) reports on Tuesday, Texas Instruments (NYSE:TI) on Monday, and Qualcomm (NASDAQ:QCOM) on Wednesday.
Also in the news, as usual, was Ben Bernanke, with his two days of testimony designed to reassure markets that his easy money policies were going to continue for a long time. Treasury bonds (NYSEARCA:IEF) liked what they heard as yields dropped.
Other positive news came from initial jobless claims which fell, the Philadelphia Fed Index which trounced expectations with a print of 19.8, up from last month's 12.5, and the Empire State Index at 9.5 compared to last month's 7.8. On the downside, Detroit declared bankruptcy to set the record for the biggest bankruptcy in history, retail sales were weak, and housing starts declined.
Next week brings existing home sales on Monday, PMI and new home sales Wednesday, jobless claims and durable goods Thursday and consumer sentiment on Friday. Big earnings news will come from McDonald's (NYSE:MCD) and Netflix (NASDAQ:NFLX) on Monday, Apple, DuPont (NYSE:DD), United Technologies (NYSE:UTX) and AT&T (NYSE:T) on Tuesday, Caterpillar (NYSE:CAT), Boeing (NYSE:BA), Visa (NYSE:V), and Ford (NYSE:F) on Wednesday, and Dow Chemical (NYSE:DOW), Amazon (NASDAQ:AMZN), and Starbucks (NASDAQ:SBUX) on Thursday.
Bottom line: Dr. Bernanke lifts Dow Jones Industrial Average and S&P 500 to new highs even as earnings disappoint. Technical indicators reflect dwindling momentum and near overbought conditions. Further price increases will depend upon the success of earnings reports due to be issued this week.
John Nyaradi is the author of The ETF Investing Premium Newsletter
Don't Miss: Jack Lew to Europe: the World Needs You to Grow.