Markets Rise on Senate Agreement, Cost-Cutting Boosts BofA: Market Recap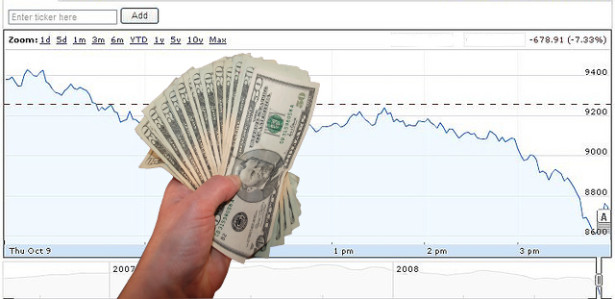 U.S. stocks rallied during trading on Wednesday as the Senate has come up with a deal that will end the government shutdown and raise the debt ceiling before tomorrow's deadline. The Senate and the House will both vote on the deal later today, and a press secretary from the White House has said President Obama approves. The country was set to lose its borrowing authority tomorrow if lawmakers didn't come up with a plan.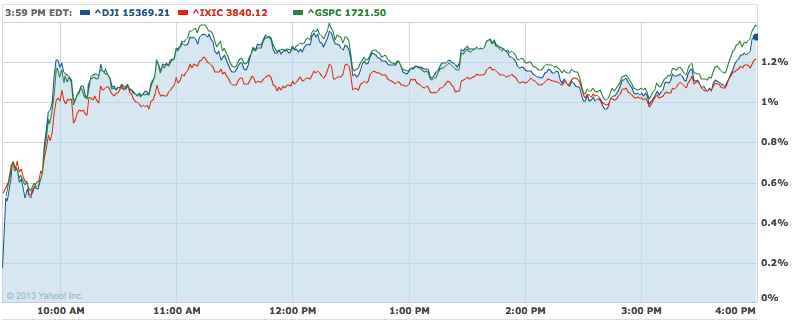 Gold: +0.49% to $1,279.40 per ounce Oil: +1.10% to $102.32 per barrel U.S. 10-Year: -1.80 to 2.67%
Senate Reaches Deal on Debt Limit, Passes the Ball to the House: It appears that leaders in the U.S. Senate have finally agreed on a stopgap measure to avoid breaching the debt limit and reopen the government. Speaking early Wednesday afternoon, Senate Majority Leader Harry Reid (D-Nev.) said that he was confident a bipartisan proposal would be able to make its way through both houses and to President Obama's desk.
Data: Eurozone Inflation Drops to 3.5-Year Low: Inflation in the eurozone dropped to a more than three-year low in September, Reuters reports, via The New York Times. According to data released by Eurostat, annual inflation in the eurozone as of September was 1.1 percent. This is down slightly from August's value of 1.3 percent and down significantly from corresponding values in 2012, which came in at 2.6 percent. That means that inflation is down by more than 50 percent from its values a year ago.
Janet Yellen: What Is the Future of Fiscal Policy? With fiscal policy so up-in-the-air amid the shutdown and concerns over the national spending authority, the nomination of Janet Yellen for Chairman of the Federal Reserve is a breath of fresh air for many finance officials — though not all. "I personally welcome [the nomination] very much," said Ewald Nowotny — Governor of the Austrian central bank — of President Obama's choice in Yellen.
Here's your cheat sheet to today's top stocks stories:
Bank of America (NYSE:BAC) edged higher Wednesday after the firm reported third-quarter financial results that were good but not great. Bank of America's net income jumped sharply, climbing to $2.5 billion, or 20 cents per share, from $340 million, or zero cents per share, in the year-ago period. However, with revenues effectively flat at $10.5 billion, Bank of America's increased profit was driven primarily by improved credit and financial conditions and reduced costs.
Intel (NASDAQ:INTC) is a company that generates more than 80 percent of its revenue from the personal computer market, Intel's third-quarter earnings naturally reflected the struggles of a business rushing to adapt to a changing technological market. For years, Intel had a near monopoly on the manufacturing of PC processors.
Yahoo (NASDAQ:YHOO) posted earnings that exceeded expectations after the bell on Tuesday evening, and a large reason for the optimism surrounding the company relates not to Yahoo itself, but to its investment in Chinese e-commerce giant Alibaba. While CEO Marissa Mayer's efforts have increased traffic on the site, Yahoo's stake in Alibaba has helped drive up the company's stock as well.
PepsiCo's (NYSE:PEP) has a diverse portfolio of 22 brands — from its Pepsi soda, Gatorade, Mountain Dew, and Tropicana juices to snacks like Fritos, Lays, Cheetos, and even Quaker Oats — that product diversity helped Pepsi immensely in the third quarter. While growth in the company's beverage segments slowed or declined in many regions, that hiccup was offset by a sales expansion in its food divisions. The company's name may suggest that is primarily a soda manufacturer, but PepsiCo actually generates approximately half of its revenue from its snack business.
Abbott Laboratories (NYSE:ABT) reported EPS of 55 cents, beating projections by 3 cents, while revenues of $5.73 billion fell slightly off, by $0.09 billion. Global sales rose 4.3 percent for the third quarter, excluding currency impact, and 2 percent on a reported basis; a supplier recall reduced sales by an estimated 2 percent. The quarterly dividend was raised by 57 percent to 22 cents per share; Abbott also reaffirmed its full-year 2013 guidance.
BlackBerry (NASDAQ:BBRY) has signed a nondisclosure agreement with Cerberus Capital Management, giving Cerberus access to financial data the firm said it wanted before making a bid on BlackBerry that would keep the company whole. The New York-based private equity firm has a specialization in turning around struggling companies. Cerberus previously said it would be interested in bidding on BlackBerry, but only if it could gain access to the company's financials in order to get a better picture of what it's worth.
Follow Jacqueline on Twitter @Jacqui_WSCS
Don't Miss: Does the Government Shutdown Threaten the Real Estate Market?